Primary History - Ancient Greeks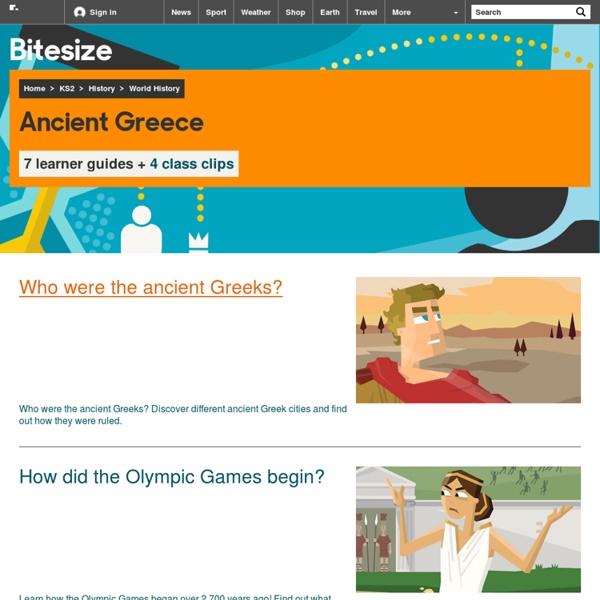 http://www.bbc.co.uk/schools/primaryhistory/ancient_greeks/
Ancient Greece • World History • Greek Mythology • HUMANITIES • ΑΡΧΑΙΑ
Ancient Greece Archaeology A collection of essays, thoughts, images and resources from Greek Archaeological sites. Architecture Essays and pictures of ancient Greek Architecture, from the neolithic to the Hellenistic and Greco-Roman periods. BBC - Primary History - Romans @import '/cs/jst/css/1/ui.css'; @import '/schools/primaryhistory/css/distribute/d-subindex.css'; @import '/schools/primaryhistory/romans/css/styles/s-themes.css'; British Broadcasting Corporation Home Accessibility links
Interactive Ancient Greece for Kids The page you are looking for might have been removed, had its name changed, or is temporarily unavailable. Please try the following: Technical Information (for support personnel) Go to Microsoft Product Support Services and perform a title search for the words HTTP and 404.Open IIS Help, which is accessible in IIS Manager (inetmgr), and search for topics titled Web Site Setup, Common Administrative Tasks, and About Custom Error Messages. Geographical Association - Resources Blackpool - The Development of a Tourist Destination (DVD) www.geography.org.uk/shop/shop_detail.asp?ID=737 This film compares the varying fortunes of one of Britain's most iconic tourist destinations with those of Tobago in the Caribbean. The film explores Blackpool before the railway age, Blackpool in its heyday, the decline of Blackpool's tourism trade and possible futures for the town.
Textkit | Greek and Latin Learning Tools Learn Greek and Latin! Textkit was created to help you learn Ancient Greek and Latin! Textkit began in late 2001 as a project to develop free of charge downloads of Greek and Latin grammars, readers and answer keys. Ancient Greece - History, mythology, art, war, culture, society, and architecture. Get News and Updates from AncientGreece.com Click on any of the above icons to learn more about the topic google-site-verification: google64c94f5be7a09702.html Question & Answers, discusstopics and ideas.Meet Students and Professors. Free Essay Research Library.Browse Ancient Greece Essays.
BBC - Primary History - World War 2 @import '/cs/jst/css/1/ui.css'; @import '/schools/primaryhistory/css/distribute/d-subindex.css'; @import '/schools/primaryhistory/world_war2/css/styles/s-themes.css'; British Broadcasting Corporation Home Greek and Roman World Mythology: The Mythical Creature Centaur [ Centaur ] [ Cerberus ] [ Chimaera ] [ Cyclopes ] [ Echidna ] [ Giants ] [ Gorgons ] [ Griffin ] [ Hydra ] [ Minotaur ] [ Pegasus ] Centaurs were the half-man and half-horse creatures of mythology. London 2012 Olympic Teaching Resources 2012 Olympic Sports | 2012 Olympic Venues | Symbols of the Olympic Games The build up to the 2012 London Olympics provides an excellent opportunity to engage students all round the world in learning about Britain and the countries within (England, Scotland and Wales). Below I have suggested some activity ideas for across the curriculum.
THEOI GREEK MYTHOLOGY, Exploring Mythology & the Greek Gods in Classical Literature & Art The Theoi Project profiles each deity and creature of Greek Mythology on a separate page, incorporating an encyclopedia summary, quotations from a wide selection of ancient Greek and Roman texts, and illustrations from ancient art. Analysis of the texts and interpretation of the stories of myth is currently beyond the scope of the project. For such detailed analysis, I would suggest consulting some of the good books available on the subject. Transliterated forms of Greek names are used throughout the biography pages of the site rather than their Latin forms, e.g. Kirke instead of Circe, Ouranos for Uranus, Apollon in place of Apollo, etc.
Ancient Greece for Kids - Woodlands Homework Help The page you are looking for might have been removed, had its name changed, or is temporarily unavailable. Please try the following: Technical Information (for support personnel)
Greeks links • Ancient Greece & Rome • physical-education 2 • Homeschool Helpers • Ancient/Roman/Greek History • RSSA Useful Websites • Greece • Ancient Greece • Greece • greeks • Ancient Greeks • Ancient Greece • beckydowney • Ancient Greece • quese2se