ABC Reading Eggs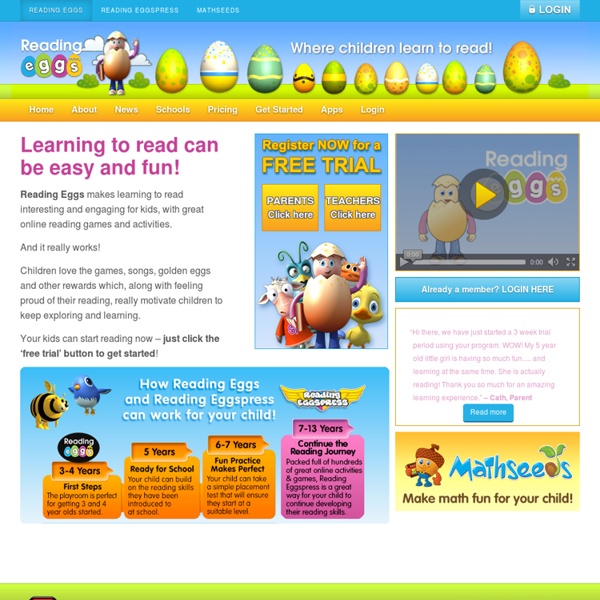 Teaching resource Websites • English • Online Stories • ICT resources for PRAC • Reading
Starfall's Learn to Read with phonics Starfall.com opened in September of 2002 as a free public service to teach children to read with phonics. Our systematic phonics approach, in conjunction with phonemic awareness practice, is perfect for preschool, kindergarten, first grade, second grade, special education, homeschool, and English language development (ELD, ELL, ESL). Starfall is an educational alternative to other entertainment choices for children. In May of 2009, we released the Starfall Kindergarten Reading and Language Arts Curriculum. Our method of instruction motivates children in an atmosphere of imagination and enthusiasm, provides opportunities for child-directed instruction, and supports English language learners and struggling readers learning alongside their peers. Please visit The Starfall Store for other low-cost phonics journals and books paralleling this website.
Spelling & Vocabulary Website: SpellingCity Expressing our Gratitude VocabularySpellingCity appreciates teachers and parents who recommend our site and mobile apps to colleagues and friends, share us on Facebook, follow us on Twitter, and other social media. Thanks to all teachers who have shared their best classroom practices using VocabularySpellingCity via online reviews, speaking at conferences and posting on social media about us. We especially appreciate the thoughtful input you give us to help guide our product development to better serve you and your students. Online Reading Online reading stories based on creatures of the land and sea, insects and toy animals. Bull Buzz the Bee Con the Cockroach Resources for the Australian Curriculum Here is a selection of digital curriculum resources from the thousands of items available through the National Digital Learning Resources Network (NDLRN). The sample demonstrates how NDLRN resources for Foundation to year 10 are aligned to the Australian Curriculum. It includes interactive learning resources and tools, film clips, sound files, photographs, maps and teacher support materials.
Student Center Activities During 2004-2007, a team of teachers at FCRR collected ideas and created Student Center Activities for use in kindergarten through fifth grade classrooms. Accompanying these Student Center Activities is a Teacher Resource Guide and Professional Development DVD that offers important insights on differentiated instruction and how to use the student center materials. Frequently Asked Questions about Student Center Activities Grades K-1 Student Center Activities (2005) Grades K-1 Student Center Activities (Revised, 2008) Grades 2-3 Student Center Activities (2006) Grades 4-5 Student Center Activities (2007) Student Center Activities and Instructional Routines Search Tool The K-5 Student Center Activities (SCA) and K-3 Instructional Routines search tool provides teacher's access to the 522 individual SCA and the instructional routines from Empowering Teachers.
The Best Advice For Classroom Behavior Management Back To School Packet & Watermelon Theme Ultimate Back To School Packet Activity sheets to make back to school run smoothly in your classroom. Class books, pocket chart activities, various activity sheets for getting to know your class, and more. So many files to choose from! Readers' Theatre - Independent follow-up activities Readers' Theatre offers your students all the enrichment of traditional theatre productions without the hassles of set building, staging, costume and production. Students can focus on developing a strong dramatic performance by directly reading from the scripts provided in these books. In doing so, they learn about famous people, places, history and more.
Sunshine Online - Home "Sunshine Online is an outstanding literacy program. There are other programs available similar in intent to Sunshine Online, but none support our students to the level they require in order to develop a love and passion of reading, develop decoding and comprehension skills in such an engaging and fun way. Thank you." Jill, VIC
Create a Google form - Google Drive Help Google Forms is a useful tool to help you plan events, send a survey, give students a quiz, or collect other information in an easy, streamlined way. A Google form can be connected to a Google spreadsheet. If a spreadsheet is linked to the form, responses will automatically be sent to the spreadsheet. Otherwise, users can view them on the "Summary of Responses" page accessible from the Responses menu. You can create a form from your Drive or from any existing spreadsheet. A tour of Google Forms Kids' Corner - Featuring the Stories of Beatrix Potter (and more!) Beatrix Potter's Stories - Multimedia Slide Show in English Peter Rabbit Audio Slide Show for 28.8 or 33.6K modems Peter Rabbit Audio Slide Show for 56K or better modems You don't need to click to the next page during the slide show, just sit back and enjoy.
education • interactive-media