Religion/Philosophy
The Questions section provides both brief and detailed answers to the most common questions about evolutionary creation. You can view questions grouped by topic using links in the sidebar at right. Each question is displayed with a one paragraph answer and a link to a more detailed answer.
BioLogos
Denis O. Lamoureux Web Page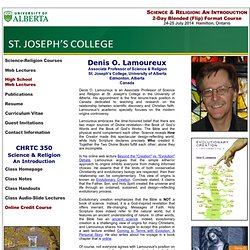 Lamoureux holds three earned doctoral degrees—dentistry, theology, and biology. He is a Fellow of the American Scientific Affiliation and cited in the Who's Who of Theology and Science. He is also a member of the Evangelical Theology Society.
Test of FAITH
Richard Dawkins Debates Alister McGrath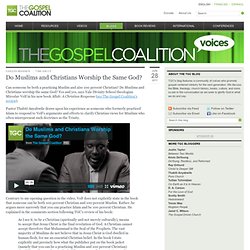 Can someone be both a practicing Muslim and also 100 percent Christian? Do Muslims and Christians worship the same God? Yes and yes, says Yale Divinity School theologian Miroslav Volf in his new book ( see The Gospel Coalition's review ). Pastor Thabiti Anyabwile draws upon his experience as someone who formerly practiced Islam to respond to Volf's arguments and efforts to clarify Christian views for Muslims who often misrepresent such doctrines as the Trinity. Contrary to my opening question in the video, Volf does not explicitly state in the book that someone can be both 100 percent Christian and 100 percent Muslim.
Do Muslims and Christians Worship the Same God?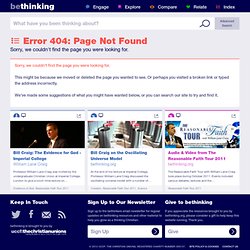 Who are you God? - Bill Craig on The Evidence for God - web streamed to you
UCCF | Bethinking | Theology Network | Uncover | text only h o m e | a b o u t u s | a u d i o | b o o k l e t s | n e w s a n d v i e w s | s e a r c h | e v e n t s | g e t i n v o l v e d | h e l p | c o n t a c t u s | Back to Section Homepage
Even Jesus Wept
Editor's Note: This week, we're revisiting the most popular webcontent on RELEVANTmagazine.com in 2011—and this one caught us by surprise. People don't want to read about being sad, right? Yet, a great number of readers passed along this article about the theology of sorrow.
Customer Reviews Searle phlo mind by Pseudoneuro
The Full List
Alphabetical by philosopher: (See below for the full list of Mailbag Monday topics) Aristotle: Nicomachean Ethics: Book I Book II Aurelius, Marcus: Meditations Berkeley, George: Treatise Concerning the Principles of Human Knowledge Camus, Albert: " The Myth of Sisyphus " Descartes, Rene: Meditations on First Philosophy: First and Second Meditations Third Meditation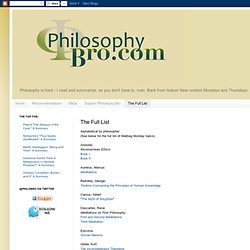 Homepage
by Henrik Edberg Is truth stranger than fiction? Perhaps. In this great article written by Henrik Edberg, we find that Mark Twain had expressed in his writings over the years an entire philosophy for living.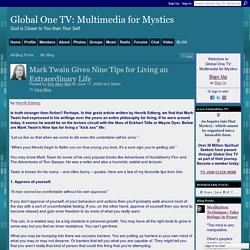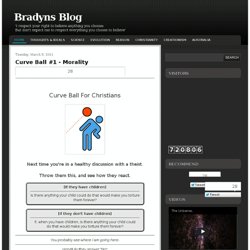 Curve Ball For Christians Next time you're in a healthy discussion with a theist. Throw them this, and see how they react. [If they have children] Is there anything your child could do that would make you torture them forever? [If they don't have children] If, when you have children, Is there anything your child could do that would make you torture them forever? You probably see where i am going here.