Religion/Philosophy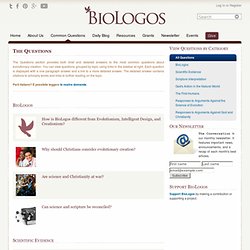 The Questions section provides both brief and detailed answers to the most common questions about evolutionary creation. You can view questions grouped by topic using links in the sidebar at right. Each question is displayed with a one paragraph answer and a link to a more detailed answer.
BioLogos
Denis O. Lamoureux Web Page
Test of FAITH
Richard Dawkins Debates Alister McGrath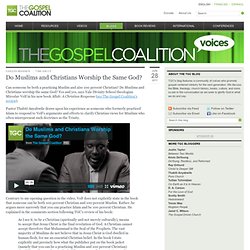 Can someone be both a practicing Muslim and also 100 percent Christian? Do Muslims and Christians worship the same God? Yes and yes, says Yale Divinity School theologian Miroslav Volf in his new book ( see The Gospel Coalition's review ). Pastor Thabiti Anyabwile draws upon his experience as someone who formerly practiced Islam to respond to Volf's arguments and efforts to clarify Christian views for Muslims who often misrepresent such doctrines as the Trinity. Contrary to my opening question in the video, Volf does not explicitly state in the book that someone can be both 100 percent Christian and 100 percent Muslim.
Do Muslims and Christians Worship the Same God?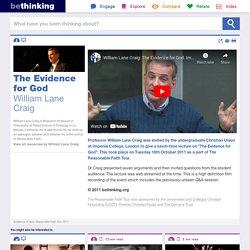 Who are you God? - Bill Craig on The Evidence for God - web streamed to you
Professor William Lane Craig was invited by the undergraduate Christian Union at Imperial College, London to give a lunch-time lecture on "The Evidence for God". This took place on Tuesday 18th October at 12.45 hrs (London Time) as a part of The Reasonable Faith Tour. Dr Craig presented seven arguments and then invited questions from the student audience. The lecture was web streamed at the time.
Even Jesus Wept
Editor's Note: This week, we're revisiting the most popular webcontent on RELEVANTmagazine.com in 2011—and this one caught us by surprise. People don't want to read about being sad, right? Yet, a great number of readers passed along this article about the theology of sorrow.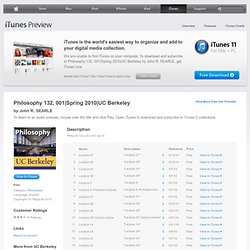 Customer Reviews Searle phlo mind by Pseudoneuro The philosophy course I wish I had had in graduate school.
The Full List
Alphabetical by philosopher: (See below for the full list of Mailbag Monday topics) Aristotle:Nicomachean Ethics:Book IBook II Aurelius, Marcus:Meditations Berkeley, George:Treatise Concerning the Principles of Human Knowledge Camus, Albert: "The Myth of Sisyphus" Descartes, Rene:Meditations on First Philosophy:First and Second MeditationsThird Meditation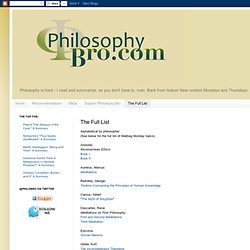 Homepage
by Henrik Edberg Is truth stranger than fiction? Perhaps. In this great article written by Henrik Edberg, we find that Mark Twain had expressed in his writings over the years an entire philosophy for living.