Beat
John Sinclair (born October 2, 1941) is an American poet from Detroit, one-time manager of the band MC5, and leader of the White Panther Party—a militantly anti-racist countercultural group of white socialists seeking to assist the Black Panthers in the Civil Rights movement—from November 1968 to July 1969. Sinclair was a member of the Class of 1960 at Albion College in Albion, Michigan, but he dropped out after his freshman year.[1] Sinclair attended the Flint College of the University of Michigan, now the University of Michigan-Flint. During his time at UM-Flint John served on the university's Publications Board, school newspaper "the word", and was the president of the Cinema Guild.
John Sinclair (poet)
Lieu : Au 9 de la rue Git-le-Cœur, dans le 6ème arrondissement de Paris (France), entre la rue Saint André des Arts et le Quai Augustins. L'histoire : En 1933, M. et Mme Rachou, un couple de provinciaux, arrivent de Giverny, près de Rouen, et deviennent gérants de l'hôtel. Ils accueillent les artistes, les autorisent à vivre comme ils veulent., et à payer leur loyer avec leurs œuvres d'art. Mme Rachou gère le bistrot au rez-de-chaussée et la réception de l'hôtel. L'hôtel n'a pas de nom. Il deviendra bientôt de manière officieuse le Beat Hotel.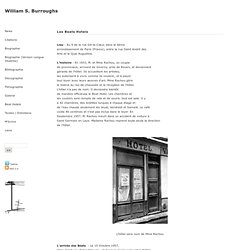 Les Beats Hotels - William S. Burroughs
Irwin Allen Ginsberg (/ˈɡɪnzbərɡ/; June 3, 1926 – April 5, 1997) was an American poet and one of the leading figures of both the Beat Generation of the 1950s and the counterculture that soon would follow. He vigorously opposed militarism, economic materialism and sexual repression. Ginsberg is best known for his epic poem "Howl", in which he denounced what he saw as the destructive forces of capitalism and conformity in the United States.[1][2][3]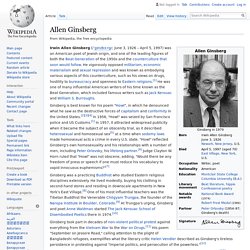 Allen Ginsberg
Bing Crosby in 1942 In 1939, the word hepster was used by Cab Calloway in the title of his Hepster's Dictionary, which defines hep cat as "a guy who knows all the answers, understands jive". In 1944, pianist Harry Gibson modified this to hipster.[2] Hipster is listed in the short glossary "For Characters Who Don't Dig Jive Talk," published in 1944 with the album Boogie Woogie In Blue by Gibson, who performed as Harry the Hipster.[3] The entry for hipsters defined them as "characters who like hot jazz." In his book Jazz: A History (1977), Frank Tirro defines the 1940s hipster:
Hipster (1940s subculture)