Beat
John Sinclair (born October 2, 1941 in Flint, Michigan ) is an American poet from Detroit , one-time manager of the band MC5 , and leader of the White Panther Party — a militantly anti-racist countercultural group of white socialists seeking to assist the Black Panthers in the Civil Rights movement — from November 1968 to July 1969. Sinclair was a member of the Class of 1960 at Albion College in Albion, Michigan, but he dropped out after his freshman year. [ 1 ] Sinclair attended the Flint College of the University of Michigan , now the University of Michigan-Flint. During his time at UM-Flint John served on the university's Publications Board, school newspaper "the word", and was the president of the Cinema Guild.
John Sinclair (poet)
Lieu : Au 9 de la rue Git-le-Cœur, dans le 6ème arrondissement de Paris (France), entre la rue Saint André des Arts et le Quai Augustins. L'histoire : En 1933, M. et Mme Rachou, un couple de provinciaux, arrivent de Giverny, près de Rouen, et deviennent gérants de l'hôtel. Ils accueillent les artistes, les autorisent à vivre comme ils veulent., et à payer leur loyer avec leurs œuvres d'art. Mme Rachou gère le bistrot au rez-de-chaussée et la réception de l'hôtel. L'hôtel n'a pas de nom. Il deviendra bientôt de manière officieuse le Beat Hotel .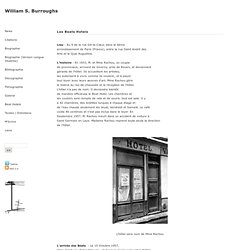 Les Beats Hotels - William S. Burroughs
Irwin Allen Ginsberg ( pron.: / ˈ ɡ ɪ n z b ər ɡ / ; June 3, 1926 – April 5, 1997) was an American poet and one of the leading figures of the Beat Generation in the 1950s. He vigorously opposed militarism , economic materialism and sexual repression . Ginsberg is best known for his epic poem " Howl ", in which he celebrated his fellow "angel-headed hipsters" and harshly denounced what he saw as the destructive forces of capitalism and conformity in the United States.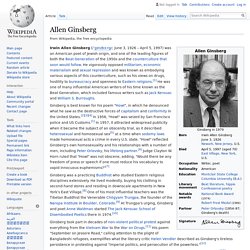 Allen Ginsberg
Hipster or hepcat , as used in the 1940s, referred to aficionados of jazz , in particular bebop , which became popular in the early 1940s. The hipster adopted the lifestyle of the jazz musician, including some or all of the following: dress, slang, use of cannabis and other drugs, relaxed attitude, sarcastic humor, self-imposed poverty and relaxed sexual codes. [ edit ] History The words hep and hip are of uncertain origin, with numerous competing theories being proposed.
Hipster (1940s subculture)