TeachNext
Digital Game-Based Learning. Read White Paper,Theoretical Underpinnings Most technology-based learning today, despite a variety of multimedia enhancements, is based on a single paradigm: "TELL-TEST".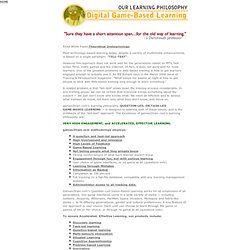 However this approach does not work well for the generations raised on MTV, fast action films, video games and the Internet. In fact, it does not work well for most learners. One of the greatest problems in web-based training is how to get learners engaged enough to actually use it. ERM0620. National Center for Education Statistics (NCES) Home Page, a part of the U.S. Department of Education.
National Library of Virtual Manipulatives.
Learner Library. Subject to Change. On Desk. New School. Kit and Shelf.
---