Yahoo
How to Inflate a Dog Like a Balloon
Otters Chase Little Girl
There's a Kitten in His Food Bowl
Kittens Follow The Leader
Cat Motivates During Workout
Cat Walks Down Refrigerator
Parents Defend Letting Daughter, 5, Swim With Sharks
ABC News' Bazi Kanani and Ross Eichenholz report: When Elana and David Barnes posted a home video to YouTube of their 5-year-old daughter swimming in the ocean, they intended to share their vacation memories with friends and family, not the world. But the video quickly became a viral sensation because it shows their daughter, Anaia, not just frolicking in the water but snorkeling with sharks in the waters off the Bahamas. "Life is too short to be boring," Elana Barnes told " Good Morning America " of why she and her husband let their daughter swim with the nurse, lemon and Caribbean reef sharks. The video of Anaia in the water has proven to be anything but boring, provoking a fiery debate online about whether the Ridgefield, Conn., parents were irresponsible in placing their daughter in a potentially dangerous situation. "When you are an adult, you are allowed to be as reckless as you want to be," said Ericka Souter, editor of the Café Mom parenting website.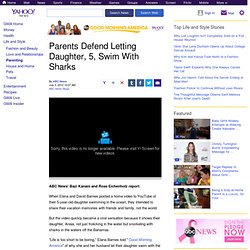 Teacher creates works of art during lunch break | Photo Gallery
By Matt Robinson and Fatos Bytyci MITROVICA, Kosovo (Reuters) - It's a dangerous job being a municipal clerk in the Kosovan town of Mitrovica, where the Ibar river forms a natural barrier between Serbs and Albanians. Since Adrijana Hodzic began issuing the identification cards of mainly Albanian Kosovo to Serbs on the north side of the river, her deputy has been shot in the leg and hand grenades lobbed at the homes of her staff. "Sometimes I feel like we're fighting against everyone," said mother-of-two Hodzic, a Mitrovica native. ...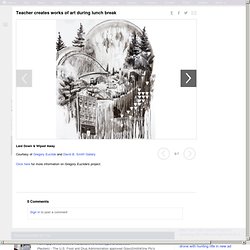 Bald eagle steals catch from fisherman's pole (PHOTOS) | The Sideshow
A bald eagle swoops down onto Bruce Huntley's fishing line. (RickWarren/Bellingham Herald) Fishing buddies Bruce Huntley and Rick Warren were enjoying a relaxing day on Washington's Lake Padden. Huntley was reeling in one of the lake's rainbow trout when a massive, 6-foot bald eagle swept down from the skies and stole Huntley's catch directly off his fishing line. "I noticed the eagle had been watching us from the tree, did one circle, went right over his head. I yelled 'watch out,' Warren told Yahoo News in a phone interview. Warren, an aspiring photographer, says he'd heard stories of birds stealing fish from humans on Lake Padden, but neither he nor Huntley had ever seen anything quite like the bold eagle that literally snapped Huntley's fishing line and flew off with his catch.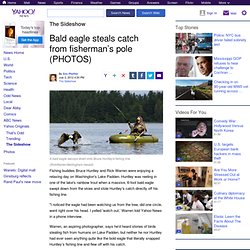 QUITO, Ecuador - Lonesome George 's inability to reproduce made him a global symbol of efforts to halt the disappearance of species. And while his kind died with him, that doesn't mean the famed giant tortoise leaves no heir apparent. The Galapagos Islands have another centenarian who fills a shell pretty well.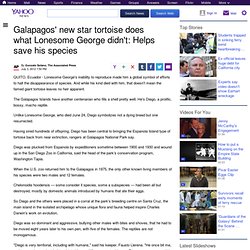 Galapagos' new star tortoise does what Lonesome George didn't: Helps save his species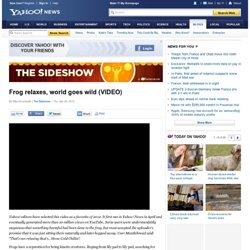 Yahoo! editors have selected this video as a favorite of 2012. It first ran in Yahoo! News in April and eventually generated more than 10 million views on YouTube.
Frog relaxes, world goes wild (VIDEO) | The Sideshow
Black Widow Spiders May Have Met Their Match
Black widow spiders seem to be universally feared. But who's scared of a brown widow? The black widow should be quaking all eight of its boots, a new study suggests. In the United States, there's a new widow in town.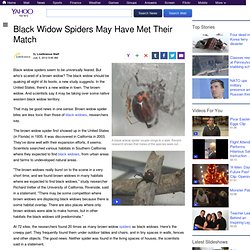 SUV goes airborne after road buckles (VIDEO) | The Sideshow
A little charity could go a long way. Or be a big mistake. A fundraiser for the Ronald McDonald House became a little more exciting when volunteers discovered a diamond ring in a stash of donated shoes. The find occurred on June 28 when the San Diego Chapter of the children's charity held a a city-wide fundraiser called the Red Shoe Drive. As part of the drive, volunteers position themselves throughout the city holding a replica of the famous fast-food clown's red boots as a drop box for donations.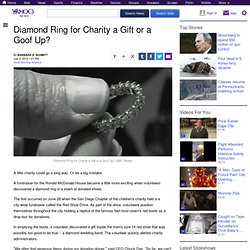 Diamond Ring for Charity a Gift or a Goof Up?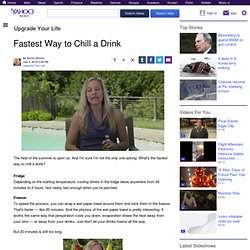 The heat of the summer is upon us. And I'm sure I'm not the only one asking: What's the fastest way to chill a drink? Fridge Depending on the starting temperature, cooling drinks in the fridge takes anywhere from 45 minutes to 2 hours. Not nearly fast enough when you're parched.
Fastest Way to Chill a Drink | Upgrade Your Life
Odd News Videos
Episode 17: 'I just figured out how to make a fist'
This Friday, Facebook will go public in one of the most anticipated IPOs in history. With more than 900 million users, Mark Zuckerberg's expanding social media empire has become a seemingly irreplaceable part of the online experience. Unfortunately, a byproduct of its success is that millions of Americans are far more exposed to a number of cyber crimes that also teem on the site.