Inspiration
Stunning Self-Portraits by a 17-Year-Old (18 photos) Like Valerie Chiang or Kalie Garrett, Alex Stoddard is one of those talented teenage photographers who knows how to express themselves.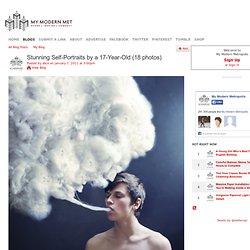 His self-portraits are all incredibly unique and after viewing them you're left wondering where he's going to take you next. What I enjoy most is that you can almost feel his passion come through. His commitment to not only executing on an idea but doing it well, is apparent to anyone who sees his photos.
I got in touch with Alex to ask him a few questions, including how his style evolved while taking on the 365 project. (That is, to shoot and share one picture each day.) Human Metamorphosis (15 pics) Creative studio Taylor James made these unbelievably realistic images that look like they're straight out of a science fiction movie!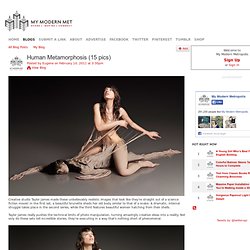 In the first set, a beautiful brunette sheds her old body similar to that of a snake. A dramatic, internal struggle takes place in the second series, while the third features beautiful women hatching from their shells. Taylor James really pushes the technical limits of photo manipulation, turning amazingly creative ideas into a reality. Not only do these sets tell incredible stories, they're executing in a way that's nothing short of phenomenal. Unique and colorful portraits by Françoise Nielly « Blog of Francesco Mugnai. 215793_3133711_ll. Stylish Monochrome Illustration by Nanami Cowdroy | CreativeBite.net. Nanami Cow­droy was born in Syd­ney, Aus­tralia with close bonds to her mixed Japanese-European heritage.
Growing up with such con­trast­ing cul­tures and sur­round­ings, has greatly influ­enced her style of art and cre­ative expres­sion. Her sig­na­ture detailed style reflects a refined mono­chrome pal­lette with her name 'Nanami' (mean­ing 'Seven Seas' in Japan­ese ) stamped in red. Fluid line-work, watery crea­tures and Gold­fish are some of her favourite sub­jects, and dis­tinc­tive forms which are fea­tured in her art­works. The BIGGEST ever list of design resources! : : ProofHQ – Product Blog.
Following the huge success of last year's "World's Biggest Ever List of Graphic Design Blogs", we've decided that we should turn it into an annual event – after all, more people than ever before are blogging and the talent pool continues to grow.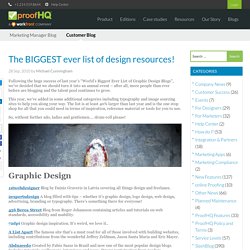 This year, we've added in some additional categories including typography and image sourcing sites to help you along your way. The list is at least 40% larger than last year and is the one stop shop for all that you could need in terms of inspiration, reference material or tools for you to use. 20+ Inspirational And Informative Resources For Logo Creation. Being a logo designer and finding ideas to design a stunning yet effective logo is not an easy task.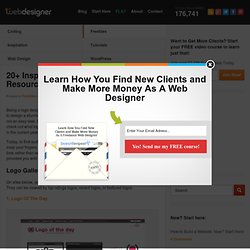 Sometimes we have to check out what logo trends are going on in the current year, and seek the inspiration sources as well. Today, to find such informational and informative resources for logo is as easy as you snap your fingers. However, if you know which sites to go to, it will save more of your time rather than searching for them one by one on Google. Therefore, we have provided you with 23 of best sites for you to look for logo creation ideas. Logo Galleries Websites. Blow at life. The Art of Negative Space. on the Behance Network. Rocksteady by DaveRapoza - David Rapoza. Tape, Pencil and Resin: The Art of Brooks Salzwedel | Ape on the Moon: Contemporary Visual Arts.
I'm very intrigued by Californian artist Brooks Salzwedel's unique style and approach to these delicate works, that combine nature and rigid human-made structures.
It's nice to see work that brings in different non-digital materials to what we're used to. Using a combination of Staedler Graphite pencils ranging from 6H to 9B, tape and 'Awful toxic resin', Brooks creates images that look like relics of nature and other objects frozen in time. I also love the gloomy and almost real effect that's created by having elements between semi-transparent layers. They are also reminiscent of some of the pictures of flattened leaves you'd get in school science books. 'When working on a piece I ask myself what images I want as the focus or in the foreground then literally draw the images on the layer that coincides with the layer in depth. Awesome stuff by Diego Fernandez.
---