Socialmedia
Women. Tips. New Comm Biz » How I moved up 300 spots in AdAge's Power 150 in 4 months. How I moved up 300 spots in AdAge's Power 150 in 4 months First off I would like to say that I do not blog for fame or fortune.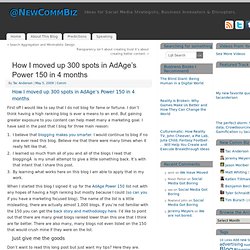 I don't think having a high ranking blog is ever a means to an end. But gaining greater exposure to you content can help meet many a marketing goal. Skittles Buzz Lasts as Long as a Sugar Rush. Social Marketing Bullshit Bingo » raena.net. List Of Top Social Media Network Sites. Social Media Networking really important for people who share interests and activities, or who are interested in exploring the interests and activities of others.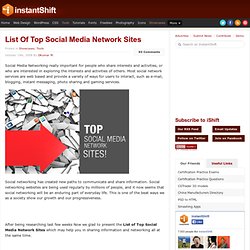 Most social network services are web based and provide a variety of ways for users to interact, such as e-mail, blogging, instant messaging, photo sharing and gaming services. Social networking has created new paths to communicate and share information. Social networking websites are being used regularly by millions of people, and it now seems that social networking will be an enduring part of everyday life. This is one of the beat ways we as a society show our growth and our progressiveness. Social Media: Speak our Language, Please. Social Media needs to tell the story in the language of CEOs and CFOs.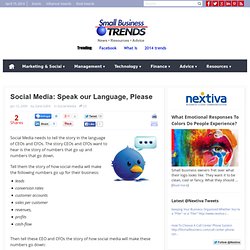 The story CEOs and CFOs want to hear is the story of numbers that go up and numbers that go down. Tell them the story of how social media will make the following numbers go up for their business: leads conversion rates customer accounts sales per customer revenues, profits cash-flow Then tell these CEO and CFOs the story of how social media will make these numbers go down: Gaining Subscribers Through Social Media: Is It Possible? | Traffikd.
Some bloggers use social media to boost traffic and draw links, but they write off the opportunity to gain subscribers through social media as being unrealistic.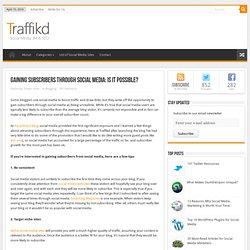 While it's true that social media users are typically less likely to subscribe than the average blog visitor, it's certainly not impossible and in fact can make a big difference to your overall subscriber count. At my primary blog, social media provided the first significant exposure and I learned a few things about attracting subscribers through this experience.
---