Recipe
Creamy Chicken And Wild Rice Soup Crock Pot) Recipe - Food.com - 385219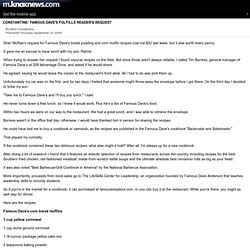 Constantine: Famous Dave's fulfills reader's request » Knoxville News Sentinel Mobile
Shari McRae's request for Famous Dave's bread pudding and corn muffin recipes cost me $20 last week, but it was worth every penny. It gave me an excuse to have lunch with my son, Patrick. When trying to answer her request I found copycat recipes on the Web.
Winos and Foodies is sponsoring A Taste of Yellow event to benefit LiveSTRONG. Those yellow bracelets....that's it. I first heard about the event through Tartelette , one of my favorite blogs ever.
A Taste of Yellow : Yellow Rose Sugar Cookies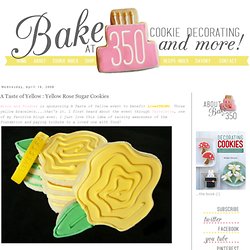 Norwegian Forest Cookies
Cook Time 10 minutes Disguises aren't just for Halloween. Surprise your family with these dressed-up, spooky-looking snacks any time of year. Kids can help by spooning the pizza sauce on the English muffin and making the mummy face with the cheese and vegetables. What you'll need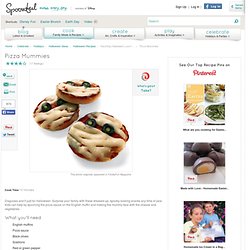 Pizza Mummies Recipe | Quick Meals
Buckwheat Cheese Straws Recipe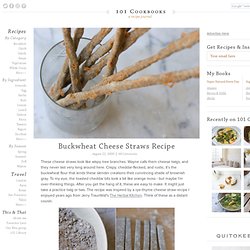 These cheese straws look like wispy tree branches. Wayne calls them cheese twigs, and they never last very long around here. Crispy, cheddar-flecked, and rustic, it's the buckwheat flour that lends these slender creations their convincing shade of brownish gray.
Apparently, making marshmallows at home isn't as "normal" as I would have thought, but then again, I am the last person one should be using a yardstick of kitchen normality, or not as long as I am pickling grapes or making wedding cakes with a mini-oven and a single, eensy counter. Of course, it doesn't mean that my brand of crazy will match yours, however. I mean, someone actually asked if was going to make my own phyllo next. Are they mad? I hate working with phyllo. Who invented this stuff?
spanakopita triangles + then some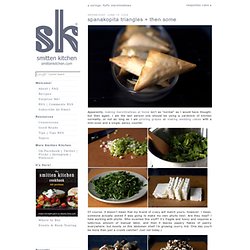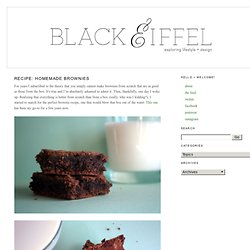 For years I subscribed to the theory that you simply cannot make brownies from scratch that are as good as those from the box.
RECIPE: HOMEMADE BROWNIES
Cafe Zupas » Blog Archive » Best Banana Bread
Looking for a moist, flavorful banana bread with the perfect balance of banana and spice? Look no further than this recipe…it meets all the above criterion! Be forewarned though…you may experience a sudden urge to consume the entire loaf in one sitting Recipe below: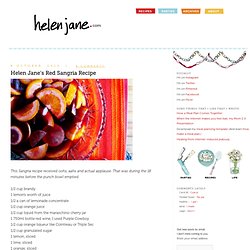 Helen Jane's Red Sangria Recipe | helenjane.com
This Sangria recipe received oohs, aahs and actual applause. That was during the 18 minutes before the punch bowl emptied.
Hey y'all! It's the Mouthwatering Monday edition of the Handmade Holiday Baking Party!! I hope y'all are getting as many fabulous gift ideas to make for friends and family as I am!!
Peppermint Bark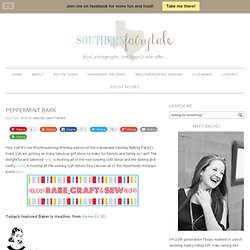 Grilled Tuna Recipe - Grilled Tuna with Honey-Mustard Marinade
Whole Wheat Pizza Dough
Whole Wheat Pizza Dough (Adapted from Eating Well) 1 cup whole wheat flour 1 cup all purpose flour 2 1/4 teaspoons instant yeast 1 teaspoon salt 1/2 teaspoon sugar 3/4 cup warm water 1 tablespoon olive oil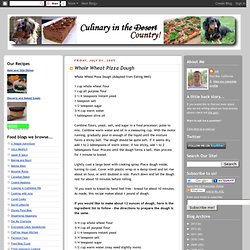 Sour cream chicken enchiladas recipe
When I was in college, on Saturday afternoons a large group of us would celebrate the weekend by going to lunch at the local Tex-Mex restaurant. We'd toast the weekend with tall glasses of iced tea and salty chips dipped in salsa, and as we were in North Texas, most of us would order the house special—sour cream chicken enchiladas. Tex-Mex is the large umbrella phrase that covers what people have determined to be Americanized Mexican food, but it's a very broad term as a Tex-Mex plate found in North Texas will be very different than a Tex-Mex plate found near the Gulf.
I can make a mean pizza, but it took me a while to learn how.
Lazy Day Peanut Noodle Salad Recipe
When the San Francisco skies are clear, bright, and blue I like to pop into Greens Restaurant where in addition to table service, they have a robust take-out menu .
Do you remember Nikki's sweet potato recipe from a couple weeks back? She recommended serving her sweet potatoes alongside lots of lots of garlicky, sauteed greens.
Garlicky Greens Recipe
To start off I have to say, this is not a grilling recipe. I've never tried it on the grill, and I probably never will. Certain things need stability – a high speed camera, a vintage moped and good cornbread.
Jalapeno Cornbread: So Hot, So Sweet
buttons_print(2).jpg
Honest Fare
A special cookie recipe: Daddy's Cookies « Daily Grommet
"I dunno. Get a pizza, watch "Degrassi Jr. High."
Super Simple Scones
Oatmeal Blueberry Muffins | Joy the Baker
Cinnamon Raisin Pull Apart Muffins | Joy the Baker
A Monthly Menu Plan for the Spring
Mint Blossoms
menu planning
Design Mom: Favorite Desserts — by Guest Mom Stephanie Brubaker
Fresh Goat Cheese Mixed Salad
stir fry, asian, chicken
peppermint marshmallow recipe
Reader Recipe Contest Winners! Best Dishes | Fit Pregnancy
Cocoa Drop Cookie Recipe