Mommyblog
FTC
PR Agency Social Media Chief Talks Blogging, Paid-For Posts - Advertising Age - Digital. Mom Blogs at MomDot » Top 50 Most Influential Bloggers and Online Moms. 784 Amazing Shares Facebook 1 Pin It Share 0 Twitter 0 Google+ 0 StumbleUpon 783 Email -- Email to a friend 784 Amazing Shares × In response to the incomplete work that Nielson did last week, leaving out some of the best of the best (hello, any list that leaves out 5M4M and My Charming Kids did little, if no, research) we are putting out our response and creating the Top 50 most Influential Bloggers and Women Online we feel should have made the list.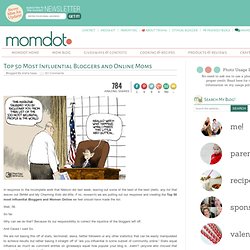 Well, 58. So far. Why can we do that? The TwitterMoms Effect: Moms Take to the Web, Marketers Take Note | Digital Connections | 360i. @TwitterMoms has amassed more than 17,000 followers since Jan. 2009 (stats via TwitterCounter).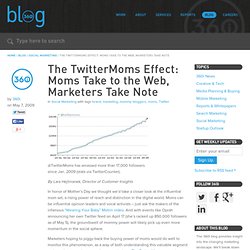 By Lara Hejtmanek, Director of Customer Insights In honor of Mother's Day we thought we'd take a closer look at the influential mom set, a rising power of reach and distinction in the digital world. Moms can be influential opinion leaders and vocal activists – just ask the makers of the infamous "Wearing Your Baby" Motrin video. And with events like Oprah announcing her own Twitter feed on April 17 (she's racked up 850,000 followers as of May 5), the groundswell of mommy power will likely pick up even more momentum in the social sphere. Marketers hoping to piggy-back the buying power of moms would do well to monitor this phenomenon, as a way of both understanding this valuable segment and creating engaging strategies to reach them.
Parenting Blogs May Be Held Liable for Product Reviews. Mommy blogger Colleen Padilla never imagined that her opinions would become so coveted by other parents that corporations would come knocking on her door, requesting that she review their products and tout them in the blogosphere.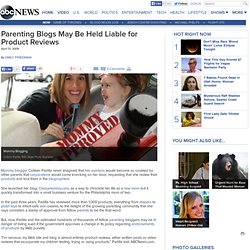 She launched her blog, Classymommy.com, as a way to chronicle her life as a new mom but it quickly transformed into a small business venture for the Philadelphia mom of two. In the past three years, Padilla has reviewed more than 1,000 products, everything from diapers to plush toys to infant-safe skin creams, to the delight of the growing parenting community that she says considers a stamp of approval from fellow parents to be the final word. But, now, Padilla and the estimated hundreds of thousands of fellow parenting bloggers may be in danger of being sued if the government approves a change in its policy regarding endorsements of products by Web pundits.
Top 50 "Mommy Blogs" Our new Ebook The Definitive 5-Step Guide to Making Money Blogging (available for download now!)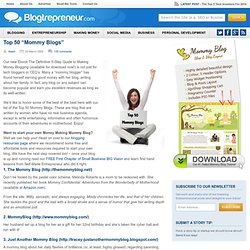 Is not just for tech bloggers or CEO's. Many a "mommy blogger" has found herself earning good money with her blog, writing about her family. Why Brands Love Mommy Bloggers. NEW YORK Gretchen Vogelzang and Paige Heninger are much like other suburban mothers, with seven children between them and busy schedules.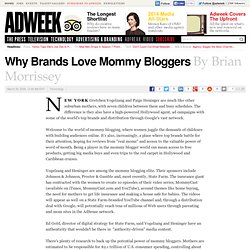 The difference is they also have a high-powered Hollywood agent, ad campaigns with some of the world's top brands and distribution through Google's vast network. Welcome to the world of mommy blogging, where women juggle the demands of childcare with building audiences online. It's also, increasingly, a place where top brands battle for their attention, hoping for reviews from "real moms" and access to the valuable power of word of mouth. Minted.com Holiday Cards - Here's What They're Saying So Far | The Parent Bloggers Network. Top 10 Misconceptions About Mommy Bloggers. Jessica Smith is Chief Mom Advisor of MomForce.com and Chief Mom Officer for Wishpot.com.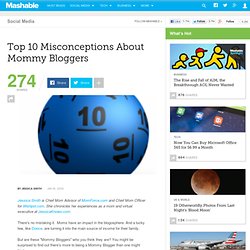 She chronicles her experiences as a mom and virtual executive at JessicaKnows.com. There's no mistaking it. Moms have an impact in the blogosphere. And a lucky few, like Dooce, are turning it into the main source of income for their family. Top 100 Female Bloggers | Enkay Blog. Warning : Creating default object from empty value in /homepages/3/d248126492/htdocs/eb/wp-includes/comment-template.php on line 663 Warning : Creating default object from empty value in /homepages/3/d248126492/htdocs/eb/wp-includes/comment-template.php on line 663 Warning : Creating default object from empty value in /homepages/3/d248126492/htdocs/eb/wp-includes/comment-template.php on line 663.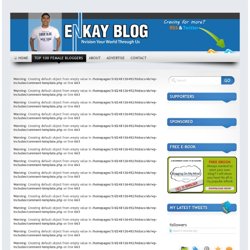 Alltop - Top Moms News. The Ultimate Mommy Blog List. Update August, 2008: If you want to see the world's most complete collection of mommy blogs, go to Moms.alltop .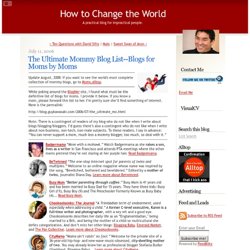 While poking around the BlogHer site, I found what must be the definitive list of blogs for moms. I provide it below. If you know a mom, please forward this list to her. I'm pretty sure she'll find something of interest. The Blogger Mom, in Your Face. Five Reasons Why Mom Blogs Are the Blogs to Watch. Mama Knows Breast: Adventures in Breastfeeding.
---