(:
Terry-Cloth Caddy - Martha Stewart Home & Garden. Clear off bathroom countertops by storing toiletries in a hanging organizer.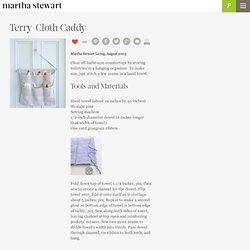 To make one, just stitch a few seams in a hand towel. Tools and MaterialsHand towel (about 19 inches by 40 inches)Straight pinsSewing machine1/2-inch-diameter dowel (2 inches longer than width of towel)One yard grosgrain ribbon. Stephanie's Sewn Felt Slippers - Martha Stewart Holiday & Seasonal Crafts. Curios Cluster Necklace - Introduction - MarthaStewart.com. Handmade Jewelry: Handmade Beaded Jewelry - Martha Stewart. 1.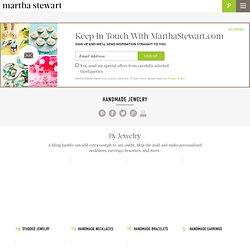 Small 3-petal cut flower; Shindo, 212-868-9311 2. Round beads, in Turquoise; bead-gallery.com 3. Glass triangles, in Blue; 4. Glass grapes, in Blue and Pale Green; 5. Handmade Jewelry: Handmade Brooches - Martha Stewart.
---