(:
Clear off bathroom countertops by storing toiletries in a hanging organizer. To make one, just stitch a few seams in a hand towel. Tools and Materials Hand towel (about 19 inches by 40 inches) Straight pins Sewing machine 1/2-inch-diameter dowel (2 inches longer than width of towel) One yard grosgrain ribbon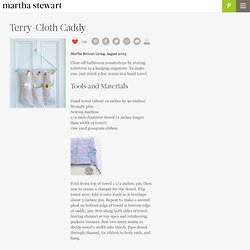 Inspired by moccasins, each of these slip-ons is constructed from a single piece of felt, available in an array of colors. Tools & Materials: Slipper template 18-by-18-inch piece of 3-millimeter wool felt Chalk pen or pencil Thread, such as silk or heavy-duty polyester Sewing kit Felt-Slipper How-To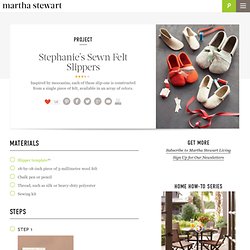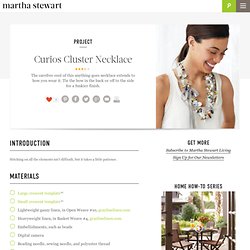 The carefree cool of this anything-goes necklace extends to how you wear it. Tie the bow in the back or off to the side for a funkier finish. Stitching on all the elements isn't difficult, but it takes a little patience. Tools and Materials Lightweight gauzy linen, in Open Weave #10, graylinelinen.com Heavyweight linen, in Basket Weave #4, graylinelinen.com Embellishments, such as beads Digital camera Beading needle, sewing needle, and polyester thread Magna-Tac glue Two 20-inch ribbons for ties (Ribbon #148, in Gray #131, by Shindo; 212-868-9311) Curios Cluster Necklace How-To
Curios Cluster Necklace - Introduction - MarthaStewart.com
Use ribbon and other trims as bases for beautiful bracelets. Mix and match them with store-bought pieces for an eclectic look. We used cotton webbing and uncut fringe as the bases for these three cuffs. To size the cuffs, measure your wrist and add 1 1/2 inches. Ribbon Wraparound Freshwater-pearl and glass beads punctuate a velvet ribbon.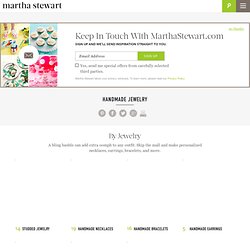 Handmade Jewelry: Handmade Beaded Jewelry - Martha Stewart
Handmade Jewelry: Handmade Brooches - Martha Stewart