Crafty things
Plastic Bag Bags are where its at. - StumbleUpon
At Summer's End Autumn Begins. by berrypatchusa on Etsy
Rustic | craftgawker
say YES! to hoboken: DIY: Homemade Glitter
Homemade shimmery glitter is probably the easiest thing you can make and really pretty to look at.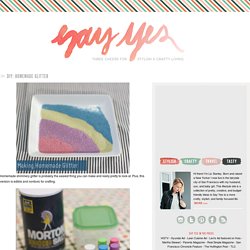 Upcycle and Re-purposing - StumbleUpon
Glowing Cups and Candlesticks -- Martha Stewart Holidays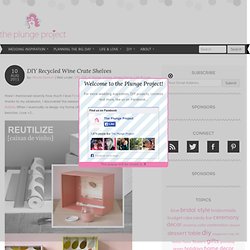 Have I mentioned recently how much I love Pinterest? Yeah, I know…I'm obsessed. Anyway, thanks to my obsession, I discovered this awesome DIY recycled wine crate shelves over on Babble. When I eventually re-design my home office, I'm going to need to make some of there beauties. Love <3…
DIY Recycled Wine Crate Shelves
I am excited to be offering 30 days of fun crafts to keep kids active and entertained this summer! You won't want to miss a day of these fun crafts for kids from some amazing bloggers! Please be sure to pay them a visit! Hi I am Beckie from Infarrantly Creative and Knock Off Décor and I am back here on STML showing you how to make woven friendship bracelets As I was thinking about what project to do for this series I tried to remember what my most favorite craft was when I was a girl.
Hi friends! I can't tell you how excited I am to be a creative guest on Ucreate today! I've been bubbling with excitement for weeks and have been scheming over what project would be Ucreate-worthy. I hope this one fits the bill...! First of all, I'm Autie and my friend Jen and I blog over at iCandy handmade. I'm a busy mom of 2 cute little kids and during nap time and bed time, I love to work on projects!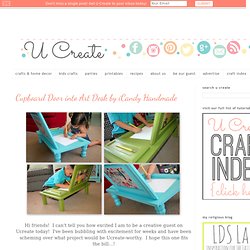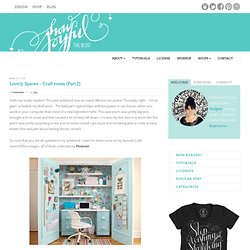 Hello my lovely readers! This past weekend was so crazy! We lost our power Thursday night – I'm so glad I schedule my draft post – The bad part I spend days without power in our house, when you work in your computer that's kind of a vital ingredient hehe. This past storm was pretty big and brought a lot of snow and that caused a lot of trees fall down =[ It was my first time in a storm like this and it was pretty surprising to see a lot of street closed, cars stuck and not being able to cook or have heater (the bad part about having electric stove!) So now that you are all updated in my weekend, I want to share some of my favorite Craft room/Office images, all of them collected via Pinterest!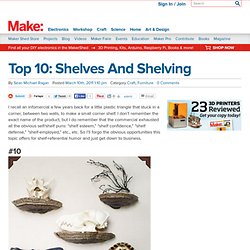 I recall an infomercial a few years back for a little plastic triangle that stuck in a corner, between two walls, to make a small corner shelf. I don't remember the exact name of the product, but I do remember that the commercial exhausted all the obvious self/shelf puns: "shelf esteem," "shelf confidence," "shelf defense," "shelf-employed," etc., etc. So I'll forgo the obvious opportunities this topic offers for shelf-referential humor and just get down to business. How-To: Turn Shelf Fungi Into Actual Shelves
Duct Tape Fashions, colored duct tape, duct tape wallets, hats, purses,...
After much demand, I am finally starting a new feature on my blog: I call it Eco Kids Craft, which is a fancy name for craft tutorials made of recycled materials. The main purpose of these tutorials is to guide parents and educators through the phases of some easy craft activities that encourage recycling, creativity and making with what you have. If you have been following my blog you should know that I tend not to put an emphasis on the final product, but rather on the process and the exploration. These are going to be no different. The tutorials will get you started by opening an endless world of creativity and imagination. Thank you Shoshanna Strauss for the graphics.