Plants Plants Plants
Companion planting
Companion planting of carrots and onions. Companion planting in gardening and agriculture is the planting of different crops in proximity for pest control, pollination, providing habitat for beneficial creatures, maximizing use of space, and to otherwise increase crop productivity.[1] Companion planting is a form of polyculture. Companion planting is used by farmers and gardeners in both industrialized and developing countries for many reasons. Many of the modern principles of companion planting were present many centuries ago in cottage gardens in England and home gardens in Asia, and thousands of years ago in Mesoamerica.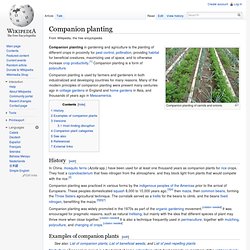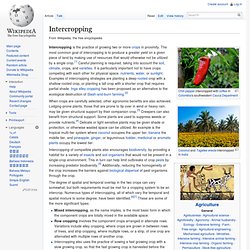 Intercropping
Intercropping is the practice of growing two or more crops in proximity. The most common goal of intercropping is to produce a greater yield on a given piece of land by making use of resources that would otherwise not be utilized by a single crop. Careful planning is required, taking into account the soil, climate, crops, and varieties. It is particularly important not to have crops competing with each other for physical space, nutrients, water, or sunlight. Examples of intercropping strategies are planting a deep-rooted crop with a shallow-rooted crop, or planting a tall crop with a shorter crop that requires partial shade.
Sphagnum
Sphagnum is a genus of approximately 120 species[1] of mosses. Sphagnum accumulations can store water, since both living and dead plants can hold large quantities of water inside their cells; plants may hold from 16-26 times as much water as their dry weight depending on the species.[2] The empty cells help retain water in drier conditions. Hence, as sphagnum moss grows, it can slowly spread into drier conditions, forming larger peatlands, both raised bogs and blanket bogs.[3] These peat accumulations then provide habitat for a wide array of peatland plants, including sedges and ericaceous shrubs, as well as orchids and carnivorous plants.[4] Sphagnum and the peat formed from it do not decay readily because of the phenolic compounds embedded in the moss's cell walls. In addition, bogs, like all wetlands, develop anaerobic soil conditions, which produces slower anaerobic decay rather than aerobic microbial action.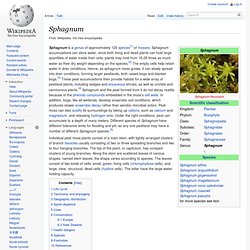 Coffee grounds for compost and fertilizer
As well as the nutritional value people have exploited the medicinal properties of the stinging nettle. Culpeper recommended the use of nettles to '...consume the phlegmatic superfluities in the body of man, that the coldness and moisture of winter has left behind". He also prescribed the juice of the leaves as a treatment for gangrenes and scabies. Native Americans used the fresh leaves to treat aches and pains. European herbalists used the leaves in a similar fashion to treat gout and arthritis.
Medicinal uses of Nettles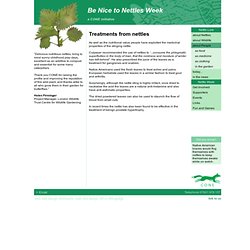 David Winston
David Winston RH (AHG) (born 1956) is an American herbalist and ethnobotanist. He has been in practice and teaching since 1977 and has written several books on the subject. He works in the Cherokee, Chinese and the Western eclectic herbal traditions.[1] Winston is a founding/professional member of the American Herbalists Guild, and is a founding advisory board member of United Plant Savers. He serves as visiting faculty at the Maryland University of Integrative Health (formally Tai Sophia Institute).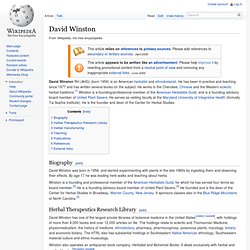 The fruit of Myristica fragrans, a species native to Indonesia, is the source of two valuable spices, the red aril (mace) enclosing the dark brown nutmeg. Botany, also called plant science(s) or plant biology, is the science of plant life and a branch of biology. The term "botany" comes from the Ancient Greek word βοτάνη (botane) meaning "pasture", "grass", or "fodder"; βοτάνη is in turn derived from βόσκειν (boskein), "to feed" or "to graze". A person who studies plants may be called a botanist or a plant scientist. Traditionally, botany has included the study of fungi and algae, studied by mycologists, phycologists respectively, with the study of plants and these three groups of organisms remain within the sphere of interest of the International Botanical Congress.
Botany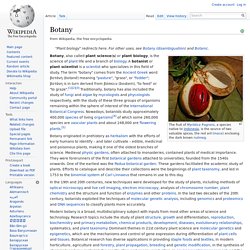 The still room is a distillery room found in most great houses, castles or large establishments throughout Europe dating back at least to medieval times. The lady of the house was in charge of the room, where medicines were prepared, cosmetics and many home cleaning products created, and home-brewed beer or wine was often made. Herbs from the kitchen garden and surrounding countryside were processed into what today we call essential oils, and infused or distilled, or brewed (etc.) as required to make rose water, lavender water, peppermint based ointments, soaps, furniture polishes and a wide variety of medicines. [1] It was a working room: part science lab, part infirmary and part kitchen. In later years, as doctors & apothecaries became more widely spread and the products of the still room became commercially available, the still room became increasingly an adjunct of the kitchen.
Still room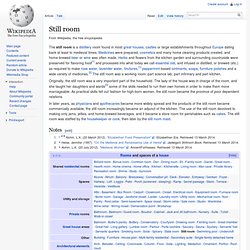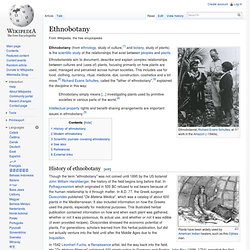 Ethnobotany (from ethnology, study of culture,[1] and botany, study of plants) is the scientific study of the relationships that exist between peoples and plants. Ethnobotanists aim to document, describe and explain complex relationships between cultures and (uses of) plants, focusing primarily on how plants are used, managed and perceived across human societies. This includes use for food, clothing, currency, ritual, medicine, dye, construction, cosmetics and a lot more.[2] Richard Evans Schultes, called the "father of ethnobotany",[3] explained the discipline in this way: Ethnobotany simply means [...] investigating plants used by primitive societies in various parts of the world.[4] Intellectual property rights and benefit-sharing arrangements are important issues in ethnobotany.[5] History of ethnobotany[edit]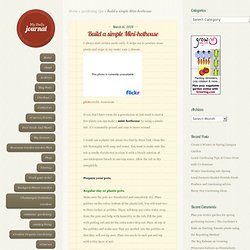 I always start certain seeds early. It helps me to produce more plants and crops in my cooler zone 5 climate. photo credit: ricoeurian If you don't have room for a greenhouse or just want to start a few plants you can make a mini-hothouse by using a plastic tub.
The Gardener's Rake » Build a simple Mini-hothouse