School
Tracking shot. Cropp.me | The easiest and smartest online crop tool. Slide.ly Free Photo Slideshow online, awesome slide show maker with photos and music! Symbaloo | Access your bookmarks anywhere. SymbalooEDU | PLE | Personal Learning Environment. Bring Your Own Device - Questions to Consider. Guest post by - Pamela Livingston | Cross posted at 1:1 Schools The buzz in 1-to-1 right now is about BYOD - Bring Your Own Device - and it's not a fad and it's not going away.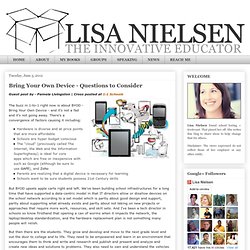 There's a convergence of factors causing it including: Hardware is diverse and at price points that are more affordableSchools are hyper budget consciousThe "cloud" (previously called The Internet, the Web and the Information Superhighway) is ideal for core apps which are free or inexpensive with such as Google (although be sure to use GAFE), and ZohoParents are realizing that a digital device is necessary for learningSchools want to be sure students possess 21st Century skills But BYOD upsets apple carts right and left. You Are Your Words - AHD. Google Sightseeing — Discover the world via Google Maps and Google Earth. Chop YouTube Videos. ChronoZoom.
ChronoZoom is an educational tool for teachers and students who want to put historical events in perspective.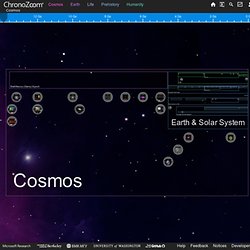 A great many resources have been created already in ChronoZoom for your enjoyment and enlightenment. Start Exploring Use ChronoZoom to get a perspective of the extensive scale of time and historical events relative to what happened around the world. Become an author yourself! Simply log on with your social networking credentials to record your unique perspective or tell a story that needs to be told. Draw a Stickman. ClassConnect | Find, build and share lessons. Home | www.savemeeting.com. Calaméo – Publish your documents. SideVibe.
Off - timer.onlineclock.net. Picfull - Free One Click Photo Editing. 60 in 60 – 60 Web Tools in 60 Minutes with Brandon Lutz. Flying solo, DEN STAR Brandon Lutz #60in6012 Last year's P.A.E.C.T.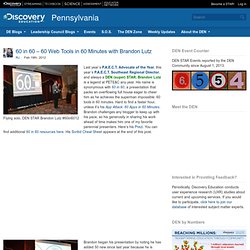 Advocate of the Year, this year's P.A.E.C.T. Southeast Regional Director, and always a DEN (super) STAR, Brandon Lutz is a legend at PETE&C any year. His name is synonymous with 60 in 60, a presentation that packs an overflowing full house eager to cheer him as he achieves the superman impossible: 60 tools in 60 minutes. Justbeamit.com. Harvard Referencing Generator - CiteThisForMe.
Stich.It - Turning the Web into Stiches! Science Mr. Barnes  - Home. FileStork - The easy and secure way to share files using Dropbox. StudyJams. Celly: Instant Group Text and Polls | Mobile Learning | Text to Screen. Juno — Online tests, quizzes, worksheets & textbooks. Words Like - Find Similar Words.
Pearltrees videos
McDowell Exchange School. QR voice. Home – TagMyDoc. Chemical Elements.com - An Interactive Periodic Table of the Elements. WeVideo - Collaborative Online Video Editor in the Cloud. Smore - Design beautiful online flyers and publish instantly. GraphWords.com - Visualize words!
Search Results - light. GroupZap — Welcome. QR Code Generator: QR Stuff Free Online QR Code Creator And Encoder For T-Shirts, Business Cards & Stickers.
---