GlassFish v3
Build an automated deployment pipeline for your Java EE applications using leading open-source technologies, including NetBeans, Git, Maven, JUnit, Jenkins, and GlassFish. All source code for this post is available on GitHub. In my earlier post, Build a Continuous Deployment System with Maven, Hudson, WebLogic Server, and JUnit, I demonstrated a basic deployment pipeline using leading open-source technologies. In this post, we will demonstrate a similar pipeline, substituting Jenkins CI Server for Hudson, and Oracle's GlassFish Application Server for WebLogic Server. We will use the same NetBeans' Java EE 'Hello World' RESTful Web Service sample project code.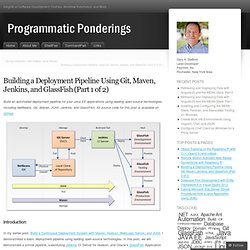 Building a Deployment Pipeline Using Git, Maven, Jenkins, and GlassFish (Part 1 of 2) | ProgrammaticPonderings
Glassfish 3.1.1 Cluster with Load-Balancer Installation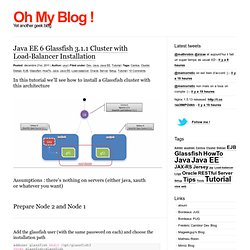 Posted: décembre 21st, 2011 | Author: usul | Filed under: Dev , Java , Java EE , Tutorial | Tags: Centos , Cluster , Debian , EJB , Glassfish , HowTo , Java , Java EE , Load-balancer , Oracle , Server , Setup , Tutorial | 10 Comments and 0 Reactions In this tutorial we'll see how to install a Glassfish cluster with this architecture Assumptions : there's nothing on servers (either java, xauth or whatever you want)

Tuning GlassFish for Performance « Middleware Magic
René van Wijk In this post, we give an example on how to optimize the performance of the GlassFish Server. This post is a continuation of the Fun with GlassFish post. Some notes up front
Optimize Glass Fish Performance
On December 10, GlassFish v3 GA will spread the world. As you are aware, the marketing vehicle for this release will be Java EE 6 and the fact that GlassFish is now a full OSGi runtime/container!!! Both are innovative technology, but they will not save your life once you put GlassFish in production hence this survival guide . At the end, once your OSGi/EE 6 application is ready, you still want to have the same great performance you've got with GlassFish v2.
Putting GlassFish v3 in Production: Essential Surviving Guide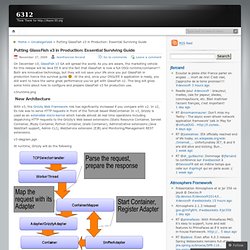 GlassFish v3 JDBC Resource | Java.net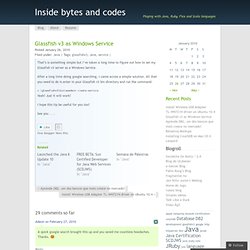 TIP: Glassfish v3 as Windows Service
That's is something simple but I've taken a long time to figure out how to set my Glassfish v3 server as a Windows Service. After a long time doing google searching, I came across a simple solution. All that you need to do is enter in your Glassfish v3 bin directory and run the command: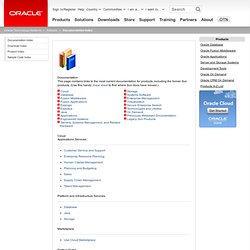 The sun-web.xml File (Sun Java System Application Server Platform Edition 9 Application Deployment Guide) - Sun Microsystems
Oracle Oracle Technology Network Indexes Documentation Index Documentation This page contains links to the most current documentation for products, including the former Sun products.
Bonjour, Jusqu'ici je faisais tourner une appli sur Tomcat 6.0. Mon war contenait le context.xml dans le META-INF avec tout ce qui va bien (voir ci-dessous). J'ai réussi à faire tournée mon appli sous GlassFish 2.1 en enlevant le context.xml et un créant la jdbc resource et custom resource depuis la console web. J'aurais voulu savoir comment déclarer ces resources dans un xml qui serait pris en compte lors du deploy du war ? enfin si cela est possible… Merci Code :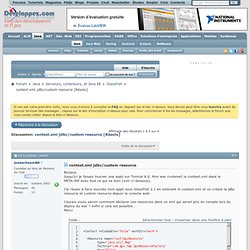 context.xml jdbc/custom resource