Webdesign
Watch Watch Adding Keyboard Navigation screencast (Alternative flash version) QuickTime version is approximately 28Mb, flash version is streaming. View the demo used in the screencast Important change
Adding Keyboard Navigation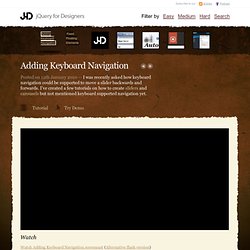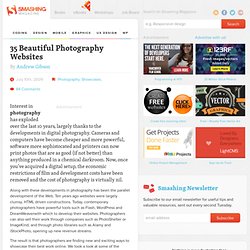 Advertisement Interest in photography has exploded over the last 10 years, largely thanks to the developments in digital photography. Cameras and computers have become cheaper and more powerful, software more sophistocated and printers can now print photos that are as good (if not better) than anything produced in a chemical darkroom. Now, once you've acquired a digital setup, the economic restrictions of film and development costs have been removed and the cost of photography is virtually nil. Along with these developments in photography has been the parallel development of the Web.
Inspiration by Bill Jones 38inShare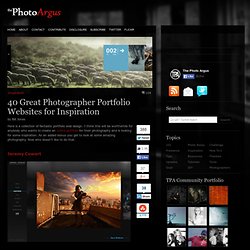 This post was originally published on August 21, 2009 and is now being being republished as it has been entirely revised. Both original methods are removed and now replaced by four new methods. The goal here is a background image on a website that covers the entire browser window at all times. Let's put some specifics on it: Fills entire page with image, no white spaceScales image as neededRetains image proportions (aspect ratio)Image is centered on pageDoes not cause scrollbarsAs cross-browser compatible as possibleIsn't some fancy shenanigans like Flash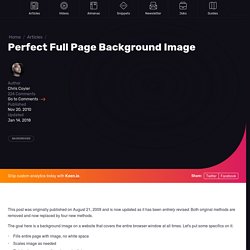 Published by Chris Coyier If you are looking for how to do FULL SCREEN BACKGROUND IMAGE, go here. My friend Richard recently came to me with a simple CSS question: Is there a way to make a background image resizeable? As in, fill the background of a web page edge-to-edge with an image, no matter the size of the browser window.
Less is More: Fundamentals of Minimalist Web Design
Fighting the battle against clutter is something every designer undertakes, whether it's on their own site or when designing for a client. Your web site's design should enhance your site's purpose by putting the focus on the content and being usable by everyone. Taking the extra time to ensure no detail is left overlooked will produce an effective and attractive website. Republished Tutorial Every few weeks, we revisit some of our reader's favorite posts from throughout the history of the site.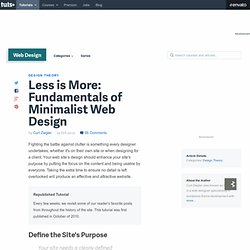 During the last few months we have looked at using negative space and minimalist design. Today we bring you 60 of the best-looking minimalistic sites currently on the world wide web. Sit back and get inspired… Minimal Design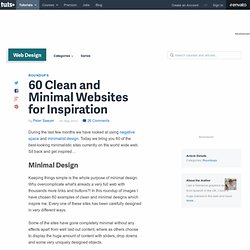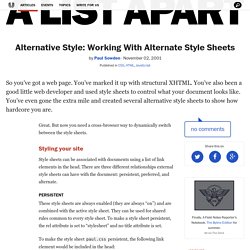 So you've got a web page. You've marked it up with structural XHTML. You've also been a good little web developer and used style sheets to control what your document looks like. You've even gone the extra mile and created several alternative style sheets to show how hardcore you are. Great.
Browsershots makes screenshots of your web design in different operating systems and browsers. It is a free open-source online web application providing developers a convenient way to test their website's browser compatibility in one place. When you submit your web address, it will be added to the job queue. A number of distributed computers will open your website in their browser. Then they will make screenshots and upload them to our central dedicated server for your review.

Oulipo « Free WordPress Themes
Clear « Free WordPress Themes
Charcoal « Free WordPress Themes
Wu Wei « Free WordPress Themes
Minimalist « Free WordPress Themes
CSS Gradient Background – Cross Browser! « puremango.co.uk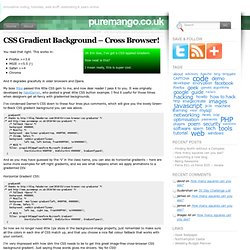 You read that right. This works in: Firefox >=3.6MSIE >=5.5 (!)Safari >=4Chrome Oh Em Gee, I've got a CSS-applied Gradient.
Home / CSS3 Previews / Border-radius: create rounded corners with CSS! The CSS3 border-radius property allows web developers to easily utilise rounder corners in their design elements, without the need for corner images or the use of multiple div tags, and is perhaps one of the most talked about aspects of CSS3. Since first being announced in 2005 the boder-radius property has come to enjoy widespread browser support (although with some discrepancies) and, with relative ease of use, web developers have been quick to make the most of this emerging technology. Here's a basic example: This box should have a rounded corners for Firefox, Safari/Chrome, Opera and IE9. The code for this example is, in theory, quite simple:
Opzet webwinkel - PHP tutorials - PHPhulp