S'informer
Artists Against 419 - Fake Sites Database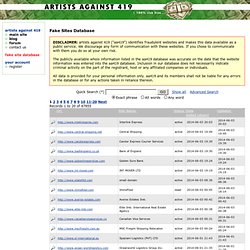 DISCLAIMER: artists against 419 ("aa419") identifies fraudulent websites and makes this data available as a public service. We discourage any form of communication with these websites. If you chose to communicate with them you do so at your own risk. The publicly available whois information listed in the aa419 database was accurate on the date that the website information was entered into the aa419 database.
Scanplanner
This database is open source and anybody can send comments in order to add new links to analysis articles, to apply modifications on signatures or to add new signatures (it's is done on our free time, of course our free time is limited, so if you want to help, you are welcome !). email: androguard (at) t0t0 (dot) fr Submit malware You can also send us samples in order to add them to the database, and moreover sometimes we request samples to analyze and add them in the database. Submit information You can send us more information about a malware, and sometimes we request information (INFORMATION) on a specific malware because we don't have found anything on internet.
DatabaseAndroidMalwares - androguard - Reverse engineering, Malware and goodware analysis of Android applications ... and more !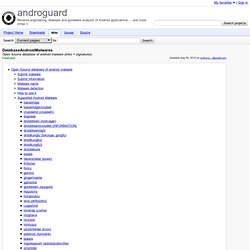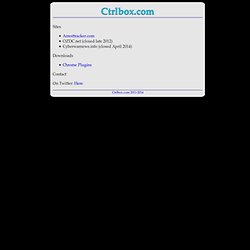 Microsoft No idea What to Do after breached by Syrian Electronic Army Yesterday the @Official_SEA16 announced a breach on Xboxs twitter account and shortly after started posting from that account. Not to long after they have continued on the breach spree with an attack on the Microsoft official blogs website and twitter accounts. It also appears that now they have also got access to some of the email […] MIT breached on Aaron Swartz Passing Anniversary
Liste de botnets Première liste de botnets à documenter, il peut s'agir de classes de botnets ou d'instances particulières. Il s'agit d'une sorte de liste de voeux, chacune des fiches ayant vocation à se retrouver dans la catégorie Catégorie:Botnets. Cette liste est, en l'état actuel, une liste de travail faite à partir d'informations issues de différentes sources. Cela veut dire que certains malwares ou autres phénomènes malveillants peuvent y apparaître et ne finalement pas remplir les critères que nous avons défini pour entrer dans la catégorie des botnets. Si les critères ne sont pas remplis, ils seront supprimés de la liste.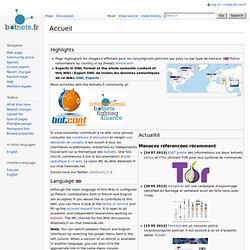 Botnets