Ajax
SuperAgent - Ajax with less suck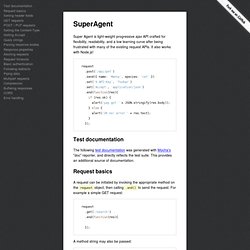 Super Agent is light-weight progressive ajax API crafted for flexibility, readability, and a low learning curve after being frustrated with many of the existing request APIs. It also works with Node.js! Test documentation The following test documentation was generated with Mocha's "doc" reporter, and directly reflects the test suite.
Ajax Voting System: Create Ajax Rating/Voting system in Dzone and Digg Style. Part 2
[ad#co-4] In my previous tutorial i explain how to create simple ajax rating using Ajax, PHP and CSS3. In this part i am going to create Digg.com and Dzone.com voting style. [ad#co-2]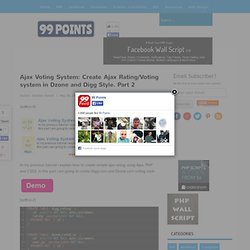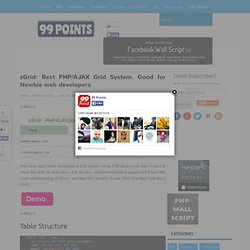 [ad#co-4] Few days ago I have developed a Grid system using PHP, jQuery and Ajax. I want to share this with my dear users. It is not very well parametrized or generic but if have little much understanding of jQuery and Ajax then its easy to use. Give your feed back about zGrid.
zGrid: Best PHP/AJAX Grid System. Good for Newbie web developers
In this post I want to explain Facebook like Collapsed Comments, while clicking View all Comments link it displays all the existing comments. I made a demo with jquery, ajax and php. Take a look at this live demo Download Script
Display Collapsed Comments like Facebook with Jquery and Ajax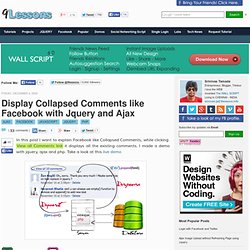 Facebook Style Wall Posting and Comments System using jQuery PHP and Ajax. Reloaded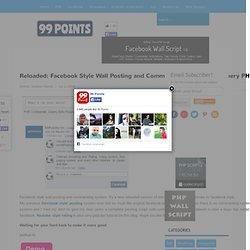 Facebook style wall posting and commenting system. Try a new reloaded version of demo which is almost similar to facebook style. My previous facebook style posting system was not so much like original facebook posting style and also there is no commenting system So I created this tutorial again to complete the commenting system and I tried my best to give my dear users a complete posting script with comments system. Facebook is now a days top social networking site. So I have created some tutorials similar to facebook.
Ajax Stylish Captcha and Contact Form using JQuery and PHP.
First of all, thanks to all of my readers who like my work and prove this by sending feedbacks over facebook style tutorials. I always try to create some useful tutorials for my users using Jquery. This tutorial is about ajax based contact form with jquery validation and ajax based captcha. Captcha is main part of any form and if it is ajax based then it looks awesome. Hope you will like this and send me your feed back.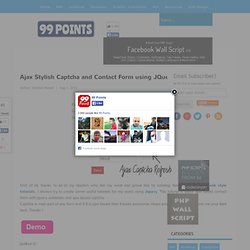 Super Ajax Polling/Voting System using JQuery, Ajax, PHP and MySQL
Polling system or Voting system is very common in web sites. Voting can be about your site or blog or some other thing just to get the user attention and get your idea about your product. I always tries to provide the users of 99Points.info some common but useful scripts which makes their effort succeeded. So after some voting system tutorials likeDigg style Voting now I have come to simple ajax based polling system. This is another series of Jquery. Hope You like it and don't forget to subscribe and give your feed back in comments.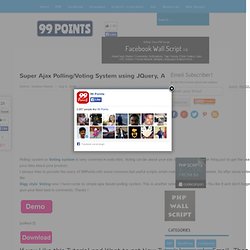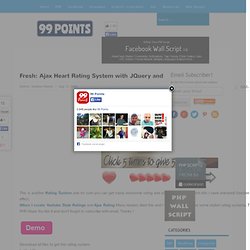 This is another Rating System and Im sure you can get many awesome rating and voting script at 99Point.info I used animate() function of jQuery to get some stylish effect.When I create Youtube Style Ratings and Ajax Rating Many readers liked this and I thought I would give some stylish rating systems. This is created with Jquery and PHP. Hope You like it and don't forget to subscribe with email. Thanks ! Download all files to get this rating system.
How To Create Ajax Heart Rating System with JQuery and PHP
New tutorial in Rating System series is here for you. It is a stylish and animated rating system I created many Ajax based Rating and Voting systems over 99Points.info. You can getYoutube Style Ratings and Ajax Rating In this rating system i used tag cloud technique, where top times rated star will be show bigger than others. So when you want to give a rate to any image or post, Click on your desired star number from 1-5 and then this star will go to bigger and bigger on each click.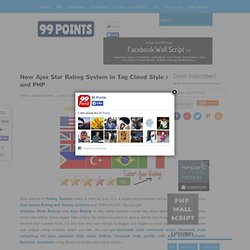 New Ajax Star Rating System in Tag Cloud Style using JQuery and PHP
How to create Bit.ly short URLs using Jquery and Ajax. Many tutorials available on web about short URLs using server side script, this script works on client side. It is easy just 5 lines of code calling Bit.ly API. You have to modify the username and API key. Use it and make URLs shorts and neat.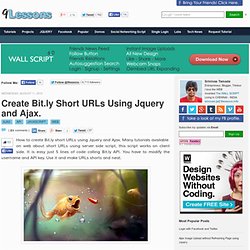 Create Bit.ly Short URLs Using Jquery and Ajax.
This tutorial is one of my favorite because I like tutorials in which CSS work is much better. It is a simple ajax based tabs navigations and I hope you will like it. I used CSS3 to put some stylish look in it.
Fancy Ajax Tabs Navigation with Ajax CSS and PHP
Delete Records with Random Animation Effect using jQuery and Ajax.
Download Script Live Demo Database Table Code A simple database table two columns msg_id and message. CREATE TABLE updates(msg_id INT PRIMARY KEY AUTO_INCREMENT,message TEXT); delete_random.php Contains PHP code displaying records from database. Take a look at class="delete_button"
My facebook style tutorials are very popular among you people and Almost 5000 downloads have been counted for facebook wall script application. Thank you all who like and appreciate my work. Last few days I was searching about checking domain names availablity using Ajax and PHP. I found some solution and I thought to create a post on my blog so that any one can get this simple script easily.
Ajax Domain Checker Application with Ajax and PHP
Are you like Twitter and Yammer API? This post about how to delete a record with animation fade-out effect using Ajax and jQuery. I like Twitter API very much, it's clean and faster.
Delete a Record with animation fade-out effect using jQuery and Ajax.
Ajax Shopping Cart: Create a Stylish Shopping Cart Using JQuery and PHP
You have seen many Ajax and JQuery based shopping carts examples over internet. I have created here a JQuery based shopping cart which doesn't call any Ajax request but save all shopping into a form and in the end we just simple submit that form where ever we want to be submitted. I used jQuery and CSS to create this stylish Cart. Hope you will like it.
Insert and Load Record using jQuery and Ajax.
N-Level of Dynamic Loading of DropDowns using Ajax and PHP
Twitter Like More Button with jQuery and Ajax.
AJAX Pagination using jQuery and PHP with Animation
Live Username Availability Checking using Ajax and jQuery. Demo Available
Display JSON Data with jQuery and Ajax
How to Create an Ajax File Uploader
Chatting with Jquery and Ajax.
Checking Username Availability with Mootools and Request.JSON
Comment System with jQuery, Ajax and PHP (Version 2.0).
How To Parse XML Using jQuery and Ajax
Submit A Form Without Page Refresh using jQuery
Youtube like Rating with Jquery and Ajax
Create a Dynamic Scrolling Content Box Using AJAX
Favorite Rating with jQuery and Ajax.
Building a 5 Star Rating System with jQuery, AJAX and PHP
Create a shoutbox using PHP and AJAX (with jQuery)
Better File Uploads with AJAX and JavaServer Faces
Voting system with jQuery, Ajax and PHP.
Submit multiple forms with jQuery and Ajax.
AJAX Login Form: Powered by MooTools | PHP Backend
jQuery Ajax delete
Building a Sleek AJAX Email Signup Form
Dynamic Dependent Select Box using Jquery and Ajax
AJAX file upload tutorial
Bing Instant Search with Jquery and Ajax
Fun with jQuery Templating and AJAX
A Simple Twitter App with Ruby on Rails - Messages With Ajax
Uploading Files with AJAX
A Fancy AJAX Contact Form
Fancy Quotes With jQuery, AJAX & CSS
Create a Twitter-Like "Load More" Widget
AJAX-enabled Sticky Notes With PHP & jQuery
Sweet AJAX Tabs With jQuery 1.4 & CSS3
AJAX Username Availability Checker Using MooTools 1.2
How To: AJAXify WordPress Comment Posting
Live Table Edit with Jquery and Ajax
New Premium Tutorial: How to Code a Fun To-Do List With PHP and AJAX
Learn how to AJAXify Comment Forms
Multiple Ajax Requests with Jquery
AJAX-ed Todo List With PHP, MySQL & jQuery
Facebook like Autosuggestion with jQuery, Ajax and PHP.
Simple AJAX Commenting System
An AJAX Click to Appreciate Badge
Tutorial 3: Adding a scroller to your website that supports Ajax | skyrill.com
A Twitter List Powered Fan Page
Making an AJAX Web Chat (Part 1) – PHP and MySQL
Creating an AJAX Web App Using the Bit.ly API
AJAX Multiple File Upload Form Using jQuery
A simple AJAX website with jQuery
An AJAX Based Shopping Cart with PHP, CSS & jQuery
Build An AJAX Powered Shopping Cart