Progetti
Exemples de projets Domotique
DIY Home Improvement Projects – Do It Yourself Home Repair Guides - Family Handyman
The Top 10 Plants for Removing Indoor Toxins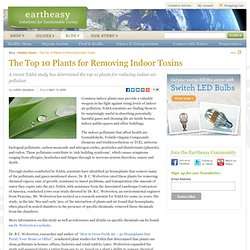 Common indoor plants may provide a valuable weapon in the fight against rising levels of indoor air pollution. NASA scientists are finding them to be surprisingly useful in absorbing potentially harmful gases and cleaning the air inside homes, indoor public spaces and office buildings. The indoor pollutants that affect health are formaldehyde, Volatile Organic Compounds (benzene and trichloroethylene or TCE), airborne biological pollutants, carbon monoxide and nitrogen oxides, pesticides and disinfectants (phenols), and radon. These pollutants contribute to 'sick building syndrome', which causes symptoms ranging from allergies, headaches and fatigue through to nervous-system disorders, cancer and death.
Organic Architecture, Sustainable Lifestyle, Permaculture
Apartment Therapy
Home Improvement and Remodeling: This Old House
Better Homes and Gardens
La maisonnette à base de matériaux naturels
- cabine douche (500 euros), - lavabo (300 euros), - WC (300 euros - Possibilité d'utiliser également des toilettes sèches). + tuyauteries (200 euros). - Pour l'eau chaude : chauffe-eau solaire : 2000 euros, hors pose. Total du "mobilier eau" : 1600 + 2000 = 3600 euros. Eau douce : récupération de l'eau de pluie (mini écodome avec bâche réserve-plastique interne). Système de filtration, contrôles microbiologiques etc. Déclaration à la DRASS. - Voir : http://www.eautarcie.com/ L'ONU, l'armée et les ONG humanitaires utilisent ces réservoirs-bâche très résistants.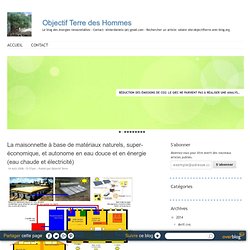 Un abri pour mon jardin
Les abris ont su évoluer avec le temps. Le modèle ci-contre adopte des lignes résolument contemporaines. Doté de larges ouvertures équipées de double vitrage et d'une isolation renforcée, il a l'avantage de pouvoir être utilisé toute l'année. Une solution idéale pour les personnes qui travaillent à domicile. Fiche technique : © 2012 Autodesk, Inc. All rights reserved. Use of the service is subject to the Homestyler Terms of Use . Autodesk is a registered trademarks or trademarks of Autodesk, Inc., and/or its subsidiaries and/or affiliates.
Programme d'aménagement d'intérieur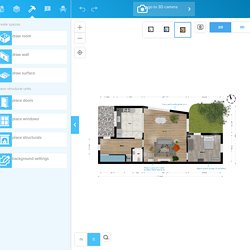 You may want to add a garden to your house, or another surface without walls. Click 'draw surface'. (Second icon in the Construction menu)
Floor Planner
Logiciel de dessin d'architecture sur Logiciel-dessin.Com
Natural Pools or Swimming Ponds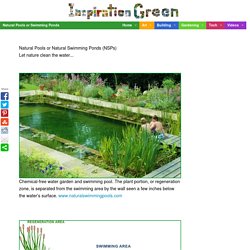 Natural Pools or Natural Swimming Ponds (NSPs) Let nature clean the water... Chemical-free water garden and swimming pool. The plant portion, or regeneration zone, is separated from the swimming area by the wall seen a few inches below the water's surface. www.naturalswimmingpools.com
lien pdf et autre pour vivre avec la nature !
Freedom Gardens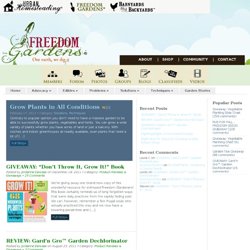 Contrary to popular opinion you don't need to have a massive garden to be able to successfully grow plants, vegetables and herbs. You can grow a wide variety of plants whether you have acres of land or just a balcony. With cloches and indoor greenhouses all readily available, even plants that need a lot of [...] Full Story» We're giving away one brand new copy of this wonderful resource for enthused Freedom Gardeners!
Healthy Home Gardening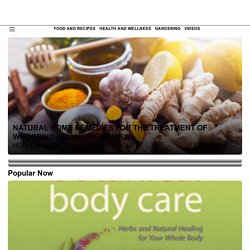 Energy-Efficient Home, Green Remodeling, Green Homes | Natural Home Magazine
or Custom Search Foods that Fight Depression New research into the links between diet and depression yields good advice for eating foods that fight depression. May/June2014 NEWSLETTERGet the latest healthy living tips each week.
Organic Gardening: Compost: Fall Gardens: Root Cellar: Cold Frames
5 steps for planting grass seed Planting (or seeding) a lawn is not difficult and can be done successfully by anyone. If you are planting grass seed, follow these five simple steps for best results.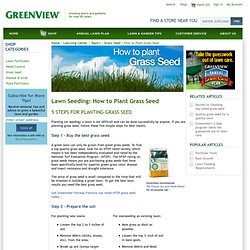 Lawn Seeding: How to Plant Grass Seed - Greenview
Japanese house 1 like House in Tokyo / Mlinaric, Henry & Zervudachivia Kongobu-ji zen garden, Koyasan, Japan. 1 like 2 repins sukiya architecture?
Flora and fauna - Japanese Gardens
Don't Bag Those Clippings!
An Easy Answer It's a question we all face when mowing: Should I bag my clippings or leave them on the lawn? In most cases, the answer is easy: Leave the clippings on the lawn! Leaving the clippings will save you time and energy, and it will return valuable nutrients to the lawn. Like Free Fertilizer
Gardening is one of the most rewarding home hobbies you can do. It's fun, sustainable and you get healthy, tasty results. A lot of people like the idea of gardening but find excuses like it's too time consuming, it's too expensive, they don't have enough space, blah blah blah.
10 Killer DIY Garden Hacks
Fine Gardening: Expert garden plant advice, tips, and ideas from Fine Gardening magazine, including design, care, and how-to garden techniques.
Fruits et légumes : calendrier pratique
Lavender projects | Dried Lavender
Tempted to do something with the lavender growing in your yard? Letting such a fragrant herb go to waste would be…well, a waste! Gathering, drying and using lavender is really simple.
Survivor - Jardinage et bricolage alternatifs
Tree Identification Using a Tree Leaf Key - Name a Tree by Studying its Leaf
Fungi Perfecti - Fungi.com
The Plant Encyclopedia - Main Page
On-line Guide to the positive identification of Members of the Cactus Family
Herbs at a Glance
Gardening/Community Gardens
Garden Design & Horticulture
les pages entomologiques: les insectes autrement
OCD: Obsessive Corgi Disorder
40 Things That Make Corgis Happy
Healthy Pet Journal - Natural, Holistic Health Care for Dogs & Cats