TED
Louise Leakey digs for humanity's origins. Stewart Brand'den gecekondular üzerine. Matt Ridley: When ideas have sex. Paul Rothemund details DNA folding. Jack Horner: Shape-shifting dinosaurs. Ashraf Ghani, gücünü yitirmiş devletlerin yeniden inşasını anlatıyor. Phil Plait: Dünya'yı göktaşlarından nasıl koruruz? Unraveling the mystery of consciousness. Antonio Damasio asks: How do we become conscious of the things around us?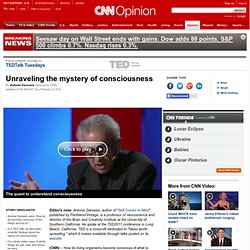 In a TED Talk, he describes scientific findings about the nature of consciousnessOur minds make maps of all the things we see, hear and sense, he saysDamasio: We need more than the maps; it takes a sense of self to be fully conscious Editor's note: Antonio Damasio, author of "Self Comes to Mind", published by Pantheon/Vintage, is a professor of neuroscience and director of the Brain and Creativity Institute at the University of Southern California. Oliver Sacks: Halüsinasyonun zihnimizle ilgili ortaya çıkardıkları. Michale Specter: Bilimi reddetmenin tehlikeleri. Seth Berkley: HIV ve grip -- aşı stratejileri. Brian Skerry okyanuslardaki görkemi -- ve vahşeti -- gözler önüne seriyor. Brian Cox: LHC de ters giden neydi? Brian Cox: Kaşiflere neden ihtiyacımız var? Craig Venter on DNA and the sea.
Craig Venter "sentetik yaşam"ın açılışını yapıyor. Michael Shermer: Kendini aldatmanın altındaki paternler. Carter Emmart evrenin 3 boyutlu atlasını sunuyor. Matt Ridley: Fikirler seks yaptığında. Phil Plait: Dünya'yı göktaşlarından nasıl koruruz? Richard Dawkins on our "queer" universe. E.O. Wilson on saving life on Earth. Translations | Talks in Turkish. Where's the new design?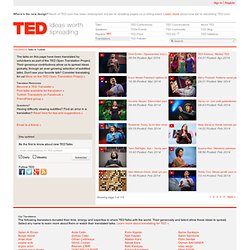 Much of TED.com has been redesigned, but we're updating pages on a rolling basis. Learn more about how we're rebuilding TED.com. Search Translations Talks in Turkish.
---