TED
Louise Leakey digs for humanity's origins
Stewart Brand'den gecekondular üzerine
Paul Rothemund details DNA folding
Jack Horner: Shape-shifting dinosaurs
Ashraf Ghani, gücünü yitirmiş devletlerin yeniden inşasını anlatıyor
Phil Plait: Dünya'yı göktaşlarından nasıl koruruz?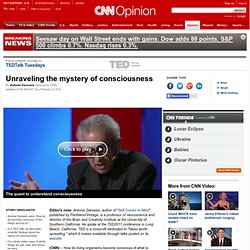 Antonio Damasio asks: How do we become conscious of the things around us?In a TED Talk, he describes scientific findings about the nature of consciousnessOur minds make maps of all the things we see, hear and sense, he saysDamasio: We need more than the maps; it takes a sense of self to be fully conscious Editor's note: Antonio Damasio, author of "Self Comes to Mind", published by Pantheon/Vintage, is a professor of neuroscience and director of the Brain and Creativity Institute at the University of Southern California.
Unraveling the mystery of consciousness
Oliver Sacks: Halüsinasyonun zihnimizle ilgili ortaya çıkardıkları
Michale Specter: Bilimi reddetmenin tehlikeleri
Seth Berkley: HIV ve grip -- aşı stratejileri
Brian Skerry okyanuslardaki görkemi -- ve vahşeti -- gözler önüne seriyor
Brian Cox: LHC de ters giden neydi?
Brian Cox: Kaşiflere neden ihtiyacımız var?
Craig Venter on DNA and the sea
Craig Venter "sentetik yaşam"ın açılışını yapıyor
Michael Shermer: Kendini aldatmanın altındaki paternler
Carter Emmart evrenin 3 boyutlu atlasını sunuyor.
Matt Ridley: Fikirler seks yaptığında
Phil Plait: Dünya'yı göktaşlarından nasıl koruruz?
Translations | Talks in Turkish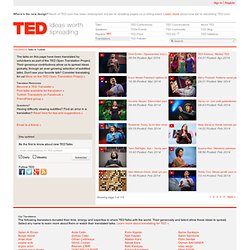 Search Translations Talks in Turkish The talks on this page have been translated by volunteers as part of the TED Open Translation Project. Their generous contributions allow us to spread ideas globally, through an ever-growing selection of subtitled talks. Don't see your favorite talk?