Media Center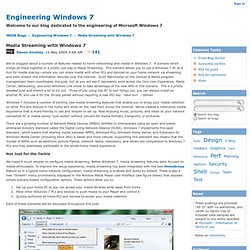 Media Streaming with Windows 7 - Engineering Windows 7
We've blogged about a number of features related to home networking and media in Windows 7. A scenario which brings all these together in a pretty cool way is Media Streaming. This scenario allows you to use a Windows 7 PC as a hub for media sharing—where you can share media with other PCs and devices on your home network via streaming, and even stream this information securely over the internet. Scott Manchester on the Devices & Media program management team coordinated this post, but as you will see it represents work across the Core User Experience, Media Center, Networking, and even Windows Live chose to take advantage of the new APIs in this scenario. This is a pretty detailed post and there's a lot to try out.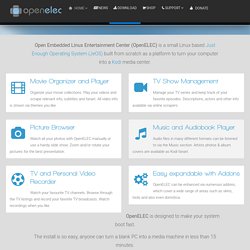 If you find OpenELEC useful, then we'd really appreciate it if you'd consider contributing to the project however you can. Donating is the easiest, and with options to use PayPal, Flattr or Bitcoin it's also pretty flexible. We haven't set up our donation pages to suggest a donation amount, instead we'd like you to just donate whatever you feel comfortable with - whether it's little or a lot we'll certainly appreciate it. Note: You do not need a PayPal account to make a PayPal donation. It's not the only way to help though...
eHomeUpgrade | Digital Home, Digital Lifestyle, Digital Media, Streaming Media, Connected TV, Smart TV, HTPC, Tablet, VOD, IPTV News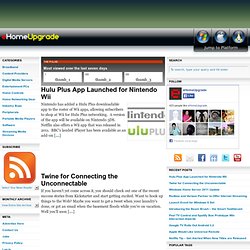 Nintendo has added a Hulu Plus downloadable app to the roster of Wii apps, allowing subscribers to shop at Wii for Hulu Plus networking. A version of the app will be available on Nintendo 3DS. Netflix also offers a Wii app that was released in 2011. BBC's lauded iPlayer has been available as an add-on [...] If you haven't yet come across it, you should check out one of the recent success stories from Kickstarter and start getting excited. Want to hook up things to the Web?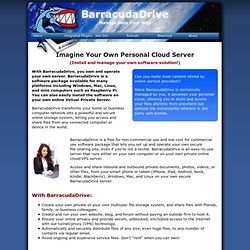 BarracudaDrive is a free for non-commercial use and low cost for commercial use software package that lets you set up and operate your own secure file-sharing site, even if you're not a techie. BarracudaDrive is an easy-to-use server that runs either on your own computer or on your own private online cloud/VPS server. Access and share inbound and outbound private documents, photos, videos, or other files, from your smart phone or tablet (iPhone, iPad, Android, Nook, Kindle, Blackberry), Windows, Mac, and Linux on your own secure BarracudaDrive server.
BarracudaDrive Web Server
PS3 Media Server • Index page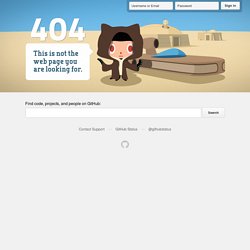 It is currently Wed Apr 09, 2014 4:18 pm View unanswered posts • View active topics Announcements Announcements about PS3 Media Server 45 Topics 812 Posts Last post by jugatsu Tue Apr 08, 2014 1:35 am General Discussion General discussion about PS3 Media Server (no support or requests) 948 Topics 4867 Posts Last post by mp3markel Sun Mar 23, 2014 11:38 pm Alternative Media Renderers Discuss alternative media renderers (not PS3) supported by PS3 Media Server (e.g.
Once again with Beta 3 we are looking at almost entirely fixes rather than features. Still, many of those fixes are worth mentioning in an abbreviated change log, and at least one is worth bringing up by name. Ever since the release of iOS 7, Airplay support in XBMC has suffered. Fortunately, thanks to generous … Read more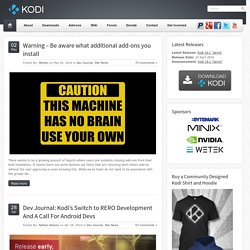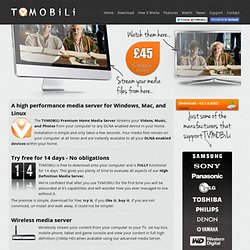 A Free DLNA Media Server For Mac, Windows, and Linux
The TVMOBiLi Premium Home Media Server streams your Videos, Music, and Photos from your computer to any DLNA enabled device in your home. Installation is simple and only takes a few seconds. Your media files remain on your computer at all times and are instantly available to all your DLNA enabled devices within your home. TVMOBiLi is free to download onto your computer and is FULLY functional for 14 days. This gives you plenty of time to evaluate all aspects of our High Definition Media Server.
Welcome to MediaPortal MediaPortal is a free open source media center software, ideal for turning your PC into a very advanced multimedia center, or Home Theater PC, to view all your digital media in your living room. Welcome to MediaPortalMediaPortal is a free open source media center software, ideal for turning your PC into a very advanced multimedia center, or Home Theater PC, to view all your digital media in your living room. TV and PVR SupportMediaPortal offers you the most powerful TV Engine and PVR (Personal Video Recorder) available today. You can do everything a TiVo can, and more, for free!