Visual info
40 Maps That Will Help You Make Sense of the World. If you're a visual learner like myself, then you know maps, charts and infographics can really help bring data and information to life.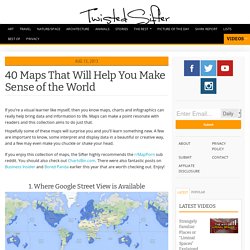 Maps can make a point resonate with readers and this collection aims to do just that. Hopefully some of these maps will surprise you and you'll learn something new. A few are important to know, some interpret and display data in a beautiful or creative way, and a few may even make you chuckle or shake your head. If you enjoy this collection of maps, the Sifter highly recommends the r/MapPorn sub reddit. Financialization of Nature. 300 Years of FOSSIL FUELS in 300 Seconds. Reduce Your Chances of Dying in a Plane Crash. Drugs World. The Billion Dollar Gram. The Billion Pound O Gram. The Art of Complex Problem Solving.
The Varieties of Intimate Relationship. Wikipedia's Lamest Edit Wars. Interactive Infographic of the World's Best Countries. OECD – Your Better Life Index. Seven Ages of Rock. Intelligent Design.
The Crisis of Credit Visualized - HD. RSA Animate - First as Tragedy, Then as Farce. RSA Animate - The Empathic Civilisation. RSA Animate - Choice. Finalist: RSA Short film competition, by Tomas Flodr. RSA Animate - Drive: The surprising truth about what motivates us.
RSA Animate - Changing Education Paradigms. RSA Animate - 21st century enlightenment.
---