Visual info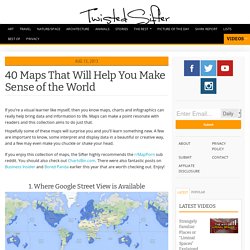 If you're a visual learner like myself, then you know maps, charts and infographics can really help bring data and information to life.
Financialization of Nature on Vimeo
Reduce Your Chances of Dying in a Plane Crash
The Billion Pound O Gram
Wikipedia's Lamest Edit Wars
Seven Ages of Rock
Intelligent Design
Finalist: RSA Short film competition, by Tomas Flodr
The Secret Powers of Time | Supercharge yourself. Think, talk and work more creatively.