Video juegos!
Video Game Cocktails: Pics, Videos, Links, News
5 Creepy Ways Video Games Are Trying to Get You Addicted
So, the headlines say somebody else has died due to video game addiction. Yes, it's Korea again. What the hell? Look, I'm not saying video games are heroin. I totally get that the victims had other shit going on in their lives.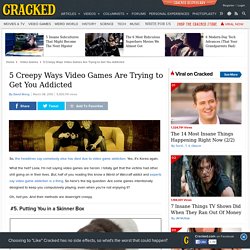 oil_spill.jpg (JPEG Image, 800x418 pixels)
The Life of a Bullet Bill [COMIC]
dommi-fresh_link-from-beyond-the-grave