Drinky drinks
Get flash to fully experience Pearltrees
WEST and SOUTHWEST Avocados, bok choy, broccoli, broccoli raab, Brussels sprouts, cabbage, carrots, cauliflower, celeriac/celery root, celery, cilantro, chard, clementines, collard greens, edible flowers, fava beans, garlic, garlic scapes/green garlic, grapefruit, green onions/scallions, kale, kohlrabi, leeks, lemons, lettuce, mandarins, mint, wild mushrooms, oranges, oregano, parsley, parsnips, pommelos, radishes, rosemary, rutabagas, salsify, sorrel, spinach, sprouts, sweet potatoes, tangerines, thyme, turnips, watercress
I've been so pleasantly blown away by the popularity of my White Strawberry-Lemon Sangria – both online and at home – that I thought I'd try another fruity-citrusy white sangria combo. I like this combo as much – possibly even more – than the first. Fresh bing cherries give this light, uber-drinkable sangria a lovely pink hue.
Apples. Pears. Cinnamon sticks. Clove-studded oranges.
Years ago, a friend turned me on to the shaken herbal tea lemonade at Starbucks. While driving around recently with my two, pregnant (at the time) sisters...we stopped to get one. They had never had them before & loooved it!
Got any plans this weekend? Print Save Pomegranate Vanilla Sangria Yield: serves 4? (depends on how much you drink!)
Save to your Collections Sorry for the inconvenience! Saving is temporarily unavailable as we work through a few kinks in our new recipe design (we hope you like it!).
My sister made this spicy ginger soda for breakfast one morning, and after a night of too much wine, it made me feel 10x better. I drink it, now, when I'm sluggish, dehydrated, or if I didn't sleep well the night before. It is a miracle beverage – the elixer of all blergy-things. Ingredients Lemons Seltzer water 1 cup sugar 5 tsp. red pepper flakes 1/4 tsp. salt 6″ of fresh ginger, peeled and chopped Directions Combine 2 cups of water, salt, ginger, sugar, and red pepper flakes in a pan over the stove.
Posted May 4th, 2012 by TheFoodinmyBeard The Kentucky Derby falls on the same day as Cinco de Mayo. What are we going to drink?!?!? For those of you who can't choose between the classic Mint Julep and Margarita, just do what I plan on doing, and mix them together! This Mint Julep Margarita blends the most basic versions of both drinks into a fantastic hybrid.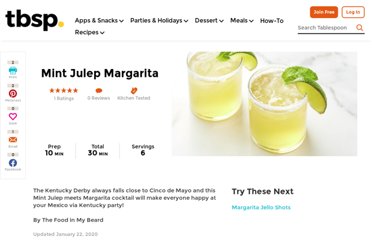 Wait, that's not how it goes, is it… In any case, rhubarb pie is so last season – this year, it's all about the rhubarb-flavored margarita. Oh yes, you read right. Rhubarb simple syrup gets its shake on with lime juice and tequila in this delicious, tangy and tart springtime cocktail.
If Violet Beauregarde didn't turn into a big blueberry and float away, she would've been around (and old enough!) to enjoy this Blueberry Mojito! Okay, my husband wrote that line, but I thought it was cute so I left it ;) Anyway, HAPPY 4TH of JULY!!! You should all celebrate with this oh so Blueberry Mojito! I used the simple syrup that I made for the italian sodas (recipe here ) and they turned out delicious! Time to go celebrate ;)