Futuristic
24 rooms packed into one tiny room
Wind Power Without the Blades: Big Pics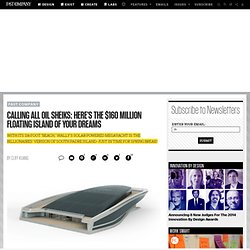 Calling All Oil Sheiks: Here's the $160 Million Floating Island of Your Dreams
Wally--a company that makes stunning modern yachts--and the French fashion house Hermes have teamed up to design a new boat: The appropriately named WHY, a full-blown solar-powered island. Just unveiled at the Abu Dhabi Yacht Show (of course), the WHY is 190 feet long and a whopping 125 feet wide--making it a dream for any billionaire who can't find enough space off land for his phalanx of Cristal-swigging bikini babes. In all, the boat has the square footage of a mansion--some 34,000 square feet. As Wally's president, Luca Bassani Antivari, explained it to The Guardian: Everybody's dream is to live on an island, in complete freedom, without constraint, with the independence that only self sufficiency can provide.
dmvA: blob VB3
'blob VB3' by dmvA photo by mick couwenbergh/rini van beek belgian architectural firm dmvA designed 'blob VB3', a mobile unit for the office of xfactoragencies as an extension to the 'house'. the space - egg house consists of a bathroom, kitchen, lighting, a bed and several niches for storage. the nose can be opened automatically and functions as a kind of porch. it easily transportable and can also be used as an office, guestroom or garden house. polyester was the primarily material used in construction of the 'blob VB3'. photo by vercruysse frederik the blob can be opened the front and side photo by mick couwenbergh/rini van beek
Living in a Shell – Nautilus House
This amazing house was build in 2006 by Arquitectura Orgánica. A young couple with two children from Mexico City who after living in a conventional home wanted to change to one integrated to nature. The goal of this project was to make it feel like an internal inhabitant of a snail, like a mollusk moving from one chamber to another, like a symbiotic dweller of a huge fossil maternal cloister.