Tunefox
8 rules for dating my daughter. This page is brought to you by UC Berkeley Parents Network Back to the Jokes & Quotes Collection 8 rules for dating my daughter Copyright 1999 W.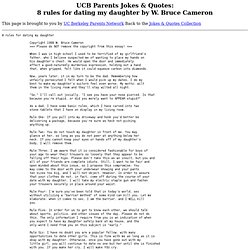 Bruce Cameron ==> Please do NOT remove the copyright from this essay! <== When I was in high school I used to be terrified of my girlfriend's father, who I believe suspected me of wanting to place my hands on his daughter's chest. Double Exposure Portraits. Cool Hunting.
Music. Fashion/beauty. Intellectual. Political. Ted. Activism. Info. New age/spirituality.
Astrology. Numerology. Design. Prefab. Homes. Career. Money. Health. Green. Useful. Recipes. Fun things. Images. Humor.
Dogs. Cats. Movies. Books. Comics. Stories. Japan.
---