Music games and programs
Free Guitar Chords, Guitar Scales & more. GuitaristsReference.com. Music Notation Training. Relaxing music, sleep-aids, anxiety reduction, relaxation tools. Loader manual. About. Seaquence is an experiment in musical composition.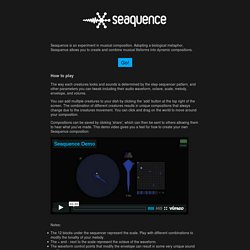 Adopting a biological metaphor, Seaquence allows you to create and combine musical lifeforms into dynamic compositions. Go! How to play The way each creatures looks and sounds is determined by the step-sequencer pattern, and other parameters you can tweak including their audio waveform, octave, scale, melody, envelope, and volume. Rainy_evening_1. 1.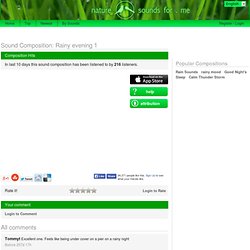 Choose a sound In order for nature sounds to start playing choose a sound from drop-down box for one channel and drag the volume slider up. 2. Add more sounds. Tell it with a song ! Hestekor.swf (application/x-shockwave-flash Object) Om cookies på våra tjänster Vi använder cookies för att ge dig en bättre upplevelse av SVT:s webb.
Om cookies på barnkanalen.se Karaktärskarusell. スタンダード通信社 & LOWE TOKYO. Music Training Games. In Bb 2.0 - a collaborative music/spoken word project.
---