Quilting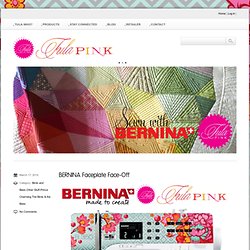 Tula Pink -
There is a heated competition going on and I kind of want to win, like a lot, so I am going to need your help! BERNINA has put together an awesome group of designers to battle it out for the privilege of designing the new 2015 B350 Special Edition faceplate. The contest starts March 17th and ends on April 14th. You can vote once per day for my, I mean ummm your favorite, design for the duration of the contest.
Today, during Pretty, Pretty Patchwork Week, we take a short break from projects to review some of the tips and tools that make the process easier. The biggest tip: PRACTICE! The more you do, the better you get. No surprises there, but with patchwork, there are a number of repetitive tasks you only get better at over time.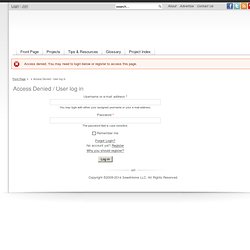 Pretty, Pretty Patchwork: Tips & Tools - Sew4Home
Oh, Fransson! Quilt Patterns Have you made something with one of these patterns?
Quilt Patterns
a stitch in dye
Last Friday, I featured the beginnings of a quilt inspired by a digital pattern I found on Pinterest. Since then I've worked on tinting the black and white version to be able to highlight different parts of the pattern. I like finding secondary and tertiary patterns and playing with those.
Bricks and Stones Quilt Pattern PDF file by Red by knitknat
This modern and original quilt pattern has been prepared with the beginner quilter in mind. It is a versatile pattern, with use of scrap fabric ideal. Bricks and Stones is a user-friendly pattern which provides not only a step by step photo guide to machine piece and quilt this quilt, but also details many handy hints and tips which will assist in the successful completion of this project. Finished Quilt size 43 inches x 43 inches. Included is a list of fabric suggestions and requirements, cutting and sewing hints, basting techniques, quilting and binding advice and references. This listing is for a quilt pattern - pdf file.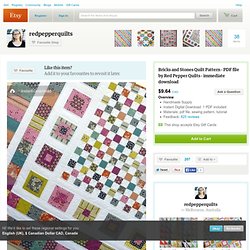 Crafty Chic: Making a Denim Quilt
Designers - QuiltHome