Quilting
Tula Pink -
Today, during Pretty, Pretty Patchwork Week, we take a short break from projects to review some of the tips and tools that make the process easier.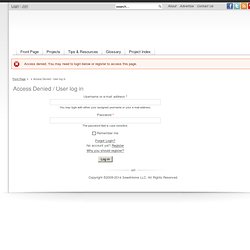 Pretty, Pretty Patchwork: Tips & Tools - Sew4Home
Oh, Fransson! Quilt Patterns Have you made something with one of these patterns?
Quilt Patterns
a stitch in dye
Bricks and Stones Quilt Pattern PDF file by Red by knitknat
Crafty Chic: Making a Denim Quilt
Designers - QuiltHome
I recently recieved my order of two of Amy Butler's beautiful Temple Flowers fabrics from your shop. I was delighted with how quickly they arrived, and the handwritten note and careful way in which they were wrapped made it feel like Christmas had come early!