Quilting
Tula Pink - Pretty, Pretty Patchwork: Tips & Tools - Sew4Home. Quilt Patterns. Oh, Fransson!
Quilt Patterns Have you made something with one of these patterns? Amy Butler Design. A stitch in dye. Bricks and Stones Quilt Pattern PDF file by Red by knitknat. This modern and original quilt pattern has been prepared with the beginner quilter in mind.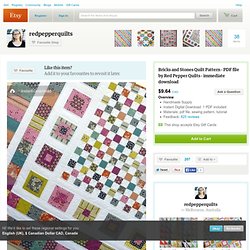 It is a versatile pattern, with use of scrap fabric ideal. Bricks and Stones is a user-friendly pattern which provides not only a step by step photo guide to machine piece and quilt this quilt, but also details many handy hints and tips which will assist in the successful completion of this project. Finished Quilt size 43 inches x 43 inches. Included is a list of fabric suggestions and requirements, cutting and sewing hints, basting techniques, quilting and binding advice and references. This listing is for a quilt pattern - pdf file. Crafty Chic: Making a Denim Quilt.
Details Published on Thursday, 10 April 2014 16:18 Source: ohchr.org.
23 secrets for stress-free quilting | May/June 2007 Issue | Quilter's Home. Designers - QuiltHome. Quilting.
---