Music
We Are Happy From. Museum of Endangered Sounds. Soirée de poche. Accueil - My Elevator Is Hype. Chronique Musicale | Nos recommandations musicales, pour ceux qui n'ont pas le temps de chercher. Sufjan Stevens. Biography[edit] Early life[edit] Stevens was born in Detroit and lived there until the age of nine, when his family moved to Petoskey, Michigan.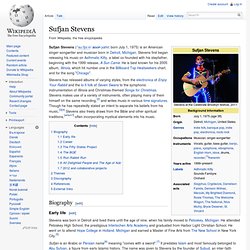 He attended Petoskey High School, the prestigious Interlochen Arts Academy and graduated from Harbor Light Christian School. He went on to attend Hope College in Holland, Michigan and earned a Master of Fine Arts from The New School in New York City.[5] Sufjan is an Arabic or Persian name[6] meaning "comes with a sword".[7] It predates Islam and most famously belonged to Abu Sufyan, a figure from early Islamic history. Billboard.fm | Free Online Top 100 Song Radio by Year Since 1946 - Present Day.
Kendra Morris. KUNSTDERFUGE.COM. Free Classical MIDI files. Classical Music.
---