Tesauros
Ciencias Sociales
Economía. Agricultura. Medicina. Generales. IEDCYT (antes CINDOC)-Instituto de Estudios Documentales sobre Ciencia y Tecnología. Árbol de jerarquías. The Art & Architecture Thesaurus Es es una marca registrada de The J.
Paul Getty Trust.Esta base de datos es usada bajo licencia del The J. Paul Getty Trust. © Todos los derechos reservados Contacto Telefono: (56-2) 732 1100 Direccion: Recoleta N 683, RecoletaSantiago de Chile. United Nations Bibliographic Information System Thesaurus. ERIC – World's largest digital library of education literature. UNFORBI. Agricultura Agrovoc Tesauro estructurado multilingüe que abarca todos los campos temáticos de la Agricultura, la Silvicultura, la pesca y la seguridad alimentaria así como sus y dominios asociados.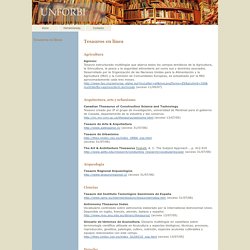 Desarrollado por la Organización de las Naciones Unidas para la Alimentación y la Agricultura (FAO) y la Comisión de Comunidades Europeas, es actualizado por la FAO aproximadamente cada tres meses. (acceso 11/09/07) Technical Reports Server. Cook's Thesaurus.
---