Wordpress
30 Most Impressive Free WordPress Business Themes. These are all free WordPress business themes for every kind of business and corporate websites.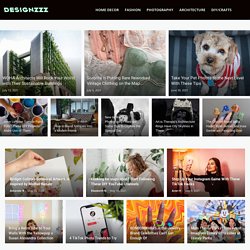 Business Themes are the commercial side of WordPress. Web designers use these themes to create business websites which require frequent updates. That's because the client can update his website using WordPress's dashboard. Of course, he can't do that with an HTML/CSS based website. So if you are a web developer/designer who often works with business clients and WordPress, you must check out these themes. Display A List Of Authors On WordPress. On some blogs it is important to post on a regular basis, but this can be difficult unless blogging is your full time job.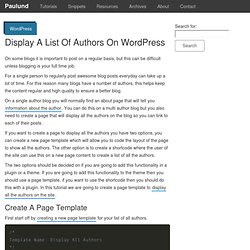 For a single person to regularly post awesome blog posts everyday can take up a lot of time. For this reason many blogs have a number of authors, this helps keep the content regular and high quality to ensure a better blog. On a single author blog you will normally find an about page that will tell you information about the author. You can do this on a multi author blog but you also need to create a page that will display all the authors on the blog so you can link to each of their posts. 4 Ways To Make Use Of The Wordpress RSS Feed Footer Plugin - Flo. As a blogger, and an avid user of the WordPress blogging platform, I enjoy trying out new plugins.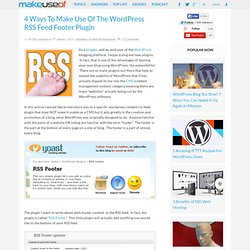 In fact, that is one of the advantages of hosting your own blog using WordPress: the extensibility! There are so many plugins out there that help to extend the usability of WordPress that it has actually dipped its toe into the CMS (content management system) category meaning there are many "websites" actually being run by the WordPress software. In this article I would like to introduce you to a specific wordpress content rss feed plugin that does NOT make it usable as a CMS but it aids greatly in the creation and promotion of a blog, what WordPress was originally designed to do. 100 Best Wordpress Themes Of 2009 | HostWisely - Flock. 2010 is Here and we've decided to review some of the 2009′s Best WordPress themes.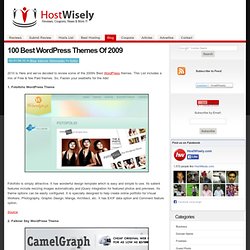 This List includes a mix of Free & few Paid themes. So, Fasten your seatbelts for the ride! 1. How to set up a WordPress Blog with Professional Web Hosting in. Creating blogs to discuss trends and news relating to your business sector is not only a really effective marketing tool, but it's fast becoming an essential part of SEO strategy.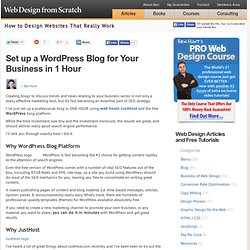 I''ve just set up a professional blog in ONE HOUR using web hosts JustHost and the free WordPress blog platform. While the time investment was tiny and the investment miniscule, the results are great, and should deliver really good search engine performance. I'll talk you through exactly how I did it. Why WordPress Blog Platform. 30 Tutorials Combining Both Wordpress and jQuery : Speckyboy Des. Take the most popular CMS, WordPress, and then take the easiest and most versatile of Javscript libraries, jQuery, and you have a match made in heaven.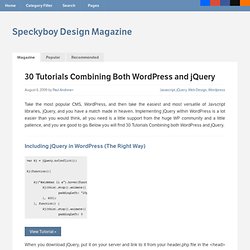 Implementing jQuery within WordPress is a lot easier than you would think, all you need is a little support from the huge WP community and a little patience, and you are good to go. Below you will find 30 Tutorials Combining both WordPress and jQuery. Including jQuery in WordPress (The Right Way) View Tutorial » Instalando e usando o Wordpress - Flock. Marcos Elias Picão criou 10/abr/2008 às 16h25 O Wordpress é um sistema de gerenciamento de blog gratuito, feito em PHP.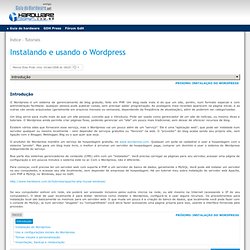 Um blog nada mais é do que um site, porém, num formato especial e com administração facilitada: qualquer pessoa pode publicar coisas, sem precisar saber programação. As postagens mais recentes aparecem na página inicial, e as outras vão sendo arquivadas (geralmente em arquivos mensais ou semanais, dependendo da freqüência de atualização), além de poderem ser categorizadas. Um blog serve para muito mais do que um site pessoal, conceito que o introduziu. How To Use Wordpress As A Twitter-Like Communication Tool. One of the most basic problems in most organizations (and perhaps relationships) is the lack of communication.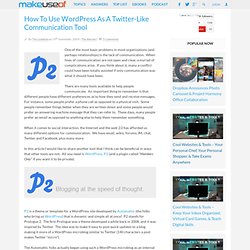 When lines of communication are not open and clear, a myriad of complications arise. If you think about it, many a conflict could have been totally avoided if only communication was what it should have been. There are many tools available to help people communicate. 9 WordPress Hacks to Encourage User Interactivity | Vandelay Des. All bloggers would like to get more interaction and participation from their readers and visitors.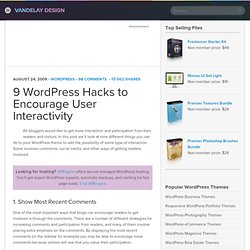 In this post we'll look at nine different things you can do to your WordPress theme to add the possibility of some type of interaction. Some involves comments, social media, and other ways of getting readers involved. Looking for hosting?
---