Twitter Tips 1
5 Ways to Use Twitter for Marketing | Kyle Lacy, Social Media - Indianapolis - Flock. Twitter is growing by leaps and bounds and it is important that you start utilizing the tool.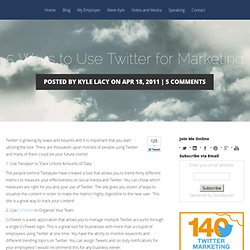 There are thousands upon millions of people using Twitter and many of them could be your future clients! 1. Use Twitalyer to Track Untold Amounts of Data The people behind Twitalyzer have created a tool that allows you to trend thirty different metrics to measure your effectiveness on social media and Twitter. You can chose which measures are right for you and your use of Twitter.
Top 50 Twitter Tracking and Analytics Tools - Flock. With over 70 Million users on Twitter, it is definitely the "buzz" word of the year.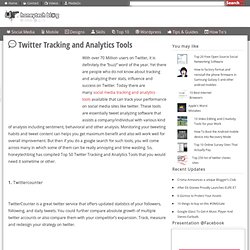 Yet there are people who do not know about tracking and analyzing their stats, influence and success on Twitter. Today there are many social media tracking and analytics tools available that can track your performance on social media sites like twitter. Twitter: Top Twitter Tools Exposed & Explained at Lightning Spee. How business does Twitter. A Big List of Twitter Related Resources. FrontPage. How to Turn Twitter Into Your One-Stop Lifestream - Flock. A lot of your online time is probably spent divided between publishing and sharing content on a variety of websites, from Flickr to YouTube.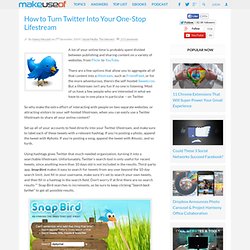 There are a few options that allow you to aggregate all of that content into a lifestream, such as FriendFeed, or for the more adventurous, there's the self-hosted Sweetcron. But a lifestream isn't any fun if no one is listening. Most of us have a few people who are interested in what we have to say in one place in particular – on Twitter. So why make the extra effort of interacting with people on two separate websites, or attracting visitors to your self-hosted lifestream, when you can easily use a Twitter lifestream to share all your online content? The Six Twitter Types : The World. Top 5 Companies We're Shocked Are Not on Twitter - Flock. Companies have been adopting Twitter left and right, often with great success.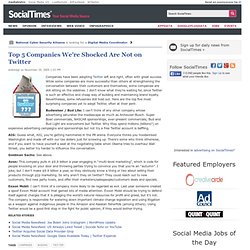 While some companies are more successful than others at strengthening the conversation between their customers and themselves, some companies are still sitting on the sidelines. I don't know what they're waiting for, since Twitter is such an effective and cheap way of building and maintaining brand loyalty. Nevertheless, some refuseniks still hold out. 5 Free Sites For Beautiful And Professional Looking Twitter Back. Uncovering Connections on Twitter Could Become Big Business. If there's a hard-to-reach person you want to meet, one of the best ways to do so is through their friends.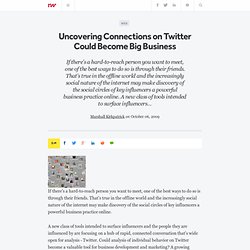 That's true in the offline world and the increasingly social nature of the internet may make discovery of the social circles of key influencers a powerful business practice online. A new class of tools intended to surface influencers and the people they are influenced by are focusing on a hub of rapid, connected conversation that's wide open for analysis - Twitter. Could analysis of individual behavior on Twitter become a valuable tool for business development and marketing? 8 Analytics apps for Twitter - Flock. Stupid Twitter Tricks • Perishable Press - Flock. Might as well face it, Twitter is here to stay.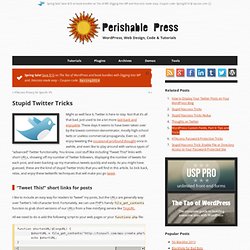 Not that it's all that bad, just used to be a lot more laid-back and enjoyable. These days it seems to have been taken over by the lowest common-denominator, mostly high-school twits or useless commercial propaganda. Even so, I still enjoy tweeting the occasional profound thought once in awhile, and even like to play around with various types of "advanced" Twitter functionality. 85+ of the Best Twitterers Designers Should Follow. There are thousands of designers on Twitter tweeting about everything from ongoing projects to their personal lives.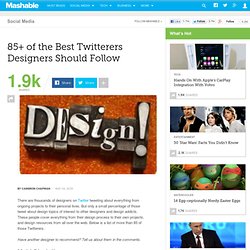 But only a small percentage of those tweet about design topics of interest to other designers and design addicts. These people cover everything from their design process to their own projects, and design resources from all over the web. Below is a list of more than 85 of those Twitterers. Best of the Web - 1000 Twitter Apps, Tools, Clients, and Service. Everything you ever wanted to know about Twitter | Charles Curle. 7 Great Databases for Twitter Applications - Flock. 10 Ways to Share Music on Twitter - Flock. Twitter is fast becoming one of the most important ways to share information quickly, easily, and instantly over the web.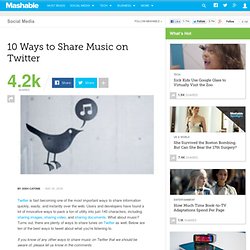 Users and developers have found a lot of innovative ways to pack a ton of utility into just 140 characters, including sharing images, sharing video, and sharing documents. What about music? Turns out, there are plenty of ways to share tunes on Twitter as well. Below are ten of the best ways to tweet about what you're listening to. If you know of any other ways to share music on Twitter that we should be aware of, please let us know in the comments. 5 awesome Twitter lists and 25 cool geeks worth listing | Royal. Although Lists isn't a new concept (Friendfeed has had them for months) they have proven to be a great addition to Twitter.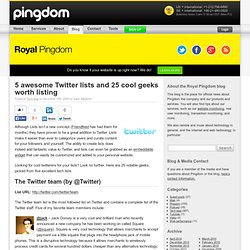 Lists make it easier than ever to categorize users and curate content for your followers and yourself. The ability to create lists does indeed add fantastic value to Twitter, and lists can even be grabbed as an embeddable widget that can easily be customized and added to your personal website. Looking for cool twitterers for your lists? 10 Better Ways To Use TwitPic - Flock. By Kalvin "Dr.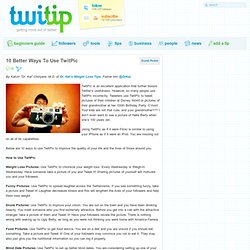 Kal" Chinyere, M.D. of Dr. Kal's Weight Loss Tips. Follow him @DrKal. TwitPic is an excellent application that further boosts Twitter's usefulness.
---