Personal Branding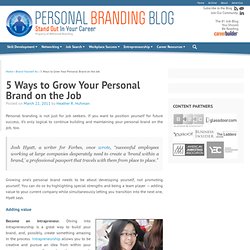 Personal branding is not just for job seekers. If you want to position yourself for future success, it's only logical to continue building and maintaining your personal brand on the job, too. Josh Hyatt, a writer for Forbes , once wrote , "successful employees working at large companies desperately need to create a 'brand within a brand,' a professional passport that travels with them from place to place."
5 Ways to Grow Your Personal Brand on the Job | Personal Branding Blog - Dan Schawbel - Flock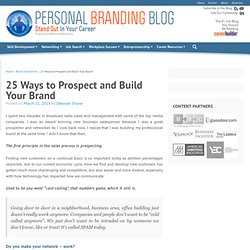 I spent two decades in broadcast radio sales and management with some of the top media companies. I was an award winning new business salesperson because I was a great prospector and networker.
25 Ways to Prospect and Build Your Brand | Personal Branding Blog - Dan Schawbel - Flock
The concept of personal branding came way before social media. Everyone has a personal brand, whether they like the concept or loathe it. It's inescapable. The issue most people have once they discover their authentic brand is how to manage it from the "big idea" to the execution of that idea and then actually protecting and marketing that brand for the rest of their life. Sure you can call yourself the "musical magician" or "the best doctor in Chicago for baby boomers" or "the social media surgeon," but without managing that brand over time, it will lose it's luster and visibility. In a sense, without brand management, all of your efforts will be for nothing.
10 Reasons Why You Have to Manage Your Personal Brand | Personal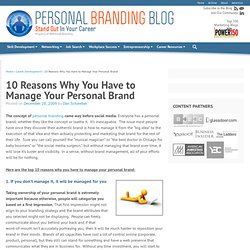 26 Reasons to NOT Create Your Personal Brand | Personal Branding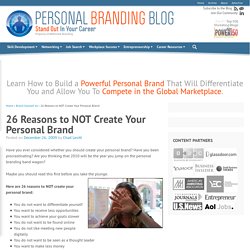 Have you ever considered whether you should create your personal brand? Have you been procrastinating? Are you thinking that 2010 will be the year you jump on the personal branding band wagon? Maybe you should read this first before you take the plunge. Here are 26 reasons to NOT create your personal brand:
5 Rules for Maintaining Your Brand Once You Have the Job | Perso
You've worked hard to build your brand in order to land a job. Now you have a job (yay!), so what happens to your brand?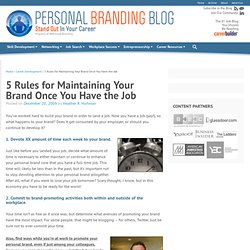 Thirteen ways that you will certainly say social media has helped my career : Job hunting – Social networks like LinkedIN, Facebook and even Twitter are a fantastic way to get to 'know' people in your industry but it goes beyond that.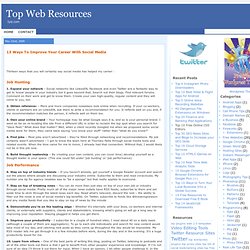 13 Ways To Improve Your Career with Social Media | Top Web Resou
The 22 Immutable Laws of Branding - Flock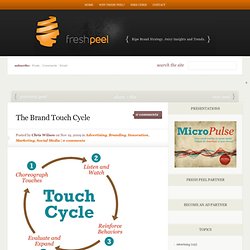 Download the Brand Touch Cycle pdf A discipline that I consistently see organizations struggling with is in fully understanding the importance of touchpoints of their brand. Yes they understand the basic idea of a touchpoint—that interactions with their brand is a touchpoint that influences the overall perception of their brand. And yes they know that it is to their advantage to integrate the touchpoints of their brand as much as possible. The disconnects start to happen when we start to dig a little deeper into the organization and really start to identify all the ways in which consumers experience the brand.
The Brand Touch Cycle - Analyze and improve the touchpoints of y
Seven Job Search Strategies that Worked in 2009 - Fl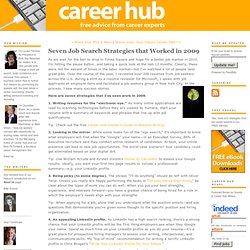 As we wait for the ball to drop in Times Square and hope for a better job market in 2010, I'm hitting the pause button…and taking a quick look at the last 12 months.