Other SN
30 Resources and Tips for Using Pinterest to Market Your Business. People like to collect things.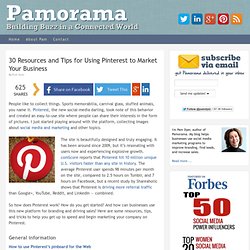 Sports memorabilia, carnival glass, stuffed animals, you name it. Pinterest, the new social-media darling, took note of this behavior and created an easy-to-use site where people can share their interests in the form of pictures. 18 Social Networks for Entrepreneurs | Practical eCommerce - Flock. Entrepreneurs are no strangers to going it alone.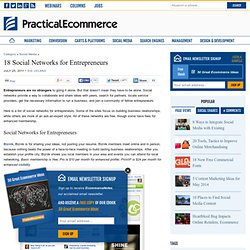 But that doesn't mean they have to be alone. Social networks provide a way to collaborate and share ideas with peers, search for partners, locate service providers, get the necessary information to run a business, and join a community of fellow entrepreneurs. Here is a list of social networks for entrepreneurs. Some of the sites focus on building business relationships, while others are more of an ask-an-expert style. All of these networks are free, though some have fees for enhanced membership. How to Use Delicious: The King of Social Bookmarking | Social Media Examiner - Flock. Delicious is the world's largest social bookmarking site.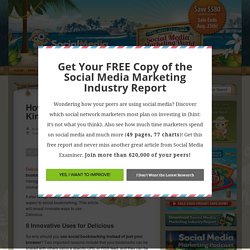 With it you can save, manage and share pages in a centralized source. It also brings a very powerful community aspect to social bookmarking. Plaxo Releases Improved Social Address Book – WebWorkerDaily - F. Plaxo, the contact synchronization service that we've covered previously, has released a much-improved version of its address book, the bread and butter of the app.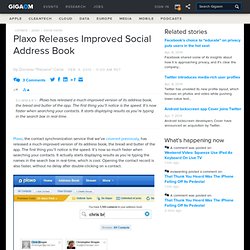 The first thing you'll notice is the speed. It's now so much faster when searching your contacts.
Music SN
Photo SN. Video SN. 7 Reasons to Like StumbleUpon's Share with Friends Feature - Flo. Most social media sites have some type of functionality for sharing something that you like with a friend.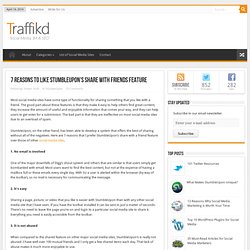 The good part about these features is that they make it easy to help others find great content, they increase the amount of useful and enjoyable information that comes your way, and they can help users to get votes for a submission. The bad part is that they are ineffective on most social media sites due to an overload of spam. StumbleUpon, on the other hand, has been able to develop a system that offers the best of sharing without all of the negatives. Here are 7 reasons that I prefer StumbleUpon's share with a friend feature over those of other social media sites. Top 10 Website Tools Designed for Digg and 500+ Digg Resource Li.
Posted by Paulo P. on 12/21/2009 in Tools | ∞ The web is now as much about social media as news and information. The epitome of this impact is seen the most with the popular social bookmarking website Digg. Not only do people now adapt their websites / web design to include it, but many have structured their entire site around this phenomena. Digg is one of the first websites to open its scripts and badges to wide usage and adaptation online. Digg has also opened one of the largest API code bases for developers and designers to use in the sites or code. 72photos | Upload, Edit, Organize, and Share your Photos - Flock. 2 Ways to Browse Digg Stories the StumpleUpon-Way | Search Engin. StumbleUpon and Digg have been my major social bookmarking/voting sites for months.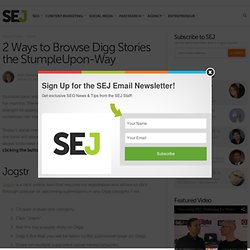 There's no way to compare the two sites: it's like comparing oranges to apples; but it's nice that sometimes we are given the opportunity to somehow mix them. Today's social media tools will give some StumbleUpon feel to Digg browsing: the tools will allow to click through Digg stories the way SU toolbar button allows to browse through stories shared on StumbleUpon: all you need is just clicking the button and see some random page submitted to Digg: Jogstr.
---