Google Wave
I'm getting more and more into Google Wave as a collaboration tool. I'm using it with Justin Levy for work stuff, with a whole host of people for my new business project, and I'm getting into the possibilities. I still have many wishes for it (post forthcoming). Today, I started using it for task management, shifting away from my use of "Things" on my Mac. Here's my reasoning:
Using Google Wave for Task Management - Flock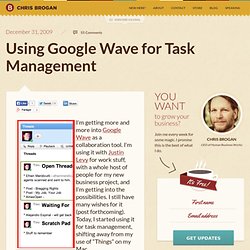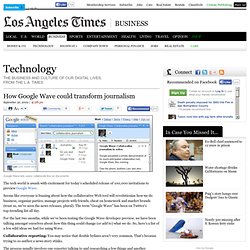 How Google Wave could transform journalism | Technology | Los An
Google Wave lets users collaborate live on documents. The tech world is awash with excitement for today's scheduled release of 100,000 invitations to preview Google Wave. Seems like everyone is buzzing about how the collaborative Web tool will revolutionize how we do business, organize parties, manage projects with friends, cheat on homework and market brands (trust us, we've seen the news releases, plural). The term "Google Wave" has been on Twitter's top-trending list all day.
SExpand Google Wave is shutting down and merging into other Google projects. Even if the app itself didn't gain traction, it made us think about the tools we use to collaborate. Here are some of the best non-Wave project and communication tools around.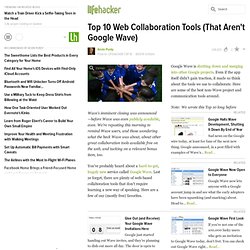 Google Wave's Best Use Cases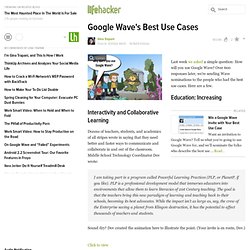 SExpand Last week we asked a simple question: How will you use Google Wave? Over 600 responses later, we're sending Wave nominations to the people who had the best use cases.
SExpand So you've snagged an invitation to Google Wave—or a pal is sending one your way—and you've already taken a look at what to expect. Let's dive deeper into Wave features, etiquette, and extensions. Learn Wave's Keyboard Shortcuts Every good webapp has a full set of keyboard shortcuts for getting around and performing the most common actions, and happily Google Wave is no exception.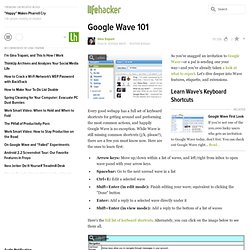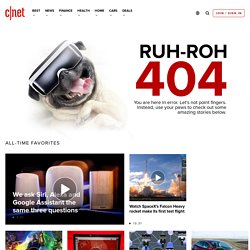 When recipients respond to Wave messages, everyone on the thread sees the replies as they are being typed. (Credit: Google) Updated 12:28 p.m. PDT with additional comments from Google.
Gmail in real-time: Google does the Wave | Webware - CNET
Google Wave Robots are the best way to explore Wave. Here is the huge list of Google Wave Robots that you can add in your contacts and enjoy waving .. Before getting into the list – You should know How to add Google Wave bots and Google Wave Gadgets. Huge List of 100 Google Wave Robots -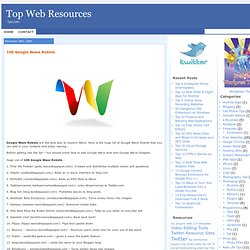 100 Google Wave Robots | Top Web Resources - Flock
Google Wave Cinema: Pulp Fiction - Flock
If you are brand new to Google Wave (aren't we all?) and a bit confused, then you are going to love this post. The goal here is to point you in the right direction on the wave to get updated content and help. Please keep in mind you must be logged into your Wave account in order for the links in this post to connect you!
Lost Inside Google Wave? 5 Waves To Make Your Life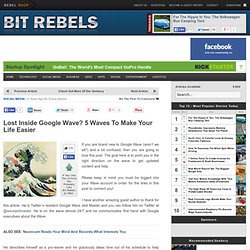 Guia Google Wave: Vídeo com a apresentação oficial do Google Wav
Este vídeo a seguir foi uma apresentação da equipe da Google aqui no Brasil (legendado em português). É um vídeo de 1 hora de duração e que mostra várias funções e utilidades do Google Wave, bem como apresenta os planos gerais da Google para esse produto e o que podemos esperar de novidades a serem implantadas. Você pode assistir e descobrir novas utilidades para uma Wave e praticar com seus amigos. também pode ver o GW sendo usado de forma intensa e completa, o que ajuda a entender melhor sua utilidade. Recomendamos que veja também os seguintes artigos e vídeos, como um manual para iniciar no Google Wave: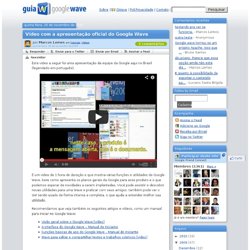 100 Google Wave Robots | Top Web Resources - Flock
Waving Goodbye to 2009 - Flock
Tips for Google Wave - Flock