Google Maps and Earth
Art Project, powered by Google - Flock. Zis Code » Criando mapas utilizando a API do Google Maps - Flock. Google Earth Flight Simulator - Flock. Related article: Traffic analysis of this post Some time last week, Google expanded Google Earth with Google Sky.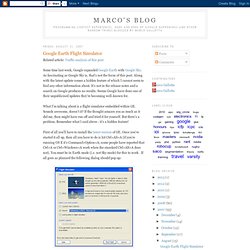 As fascinating as Google Sky is, that's not the focus of this post. 15 Coolest Google Earth Finds - Oddee.com - Flock. Dubbed the "Badlands Guardian" by locals, this geological marvel (Google Earth coordinates 50.010083,-110.113006) in Alberta, Canada, bears an uncanny resemblance to a human head wearing a full Native American headdress--and earphones, to boot.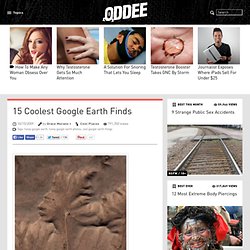 Of course, The Guardian was produced naturally. A synthetic wonder that can be truly appreciated only from above, this giant man-shaped lake (-21.805149,-49.089977) is located near Bauru, Brazil. This heart-shaped island in the Adriatic became a hit on Google Earth for Valentine's Day. The uninhabited island is only 130,000 square yards and is called Galesnjak.
10 Amazing Google SketchUp Buildings - PC World - Flock. Among all the free tools that Google produces, Google's 3D modeling software, SketchUp, has to be one of the best and most addicting.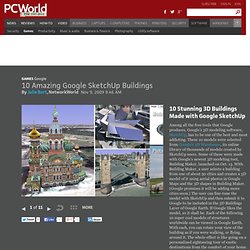 These 10 models were selected from Google's 3D Warehouse, its online library of thousands of models created by SketchUp users. Some of these were made with Google's newest 3D modeling tool, Building Maker, launched on Oct. 13. Top Ten Google Sightseeing Posts 2009 - Google Sightseeing. 1.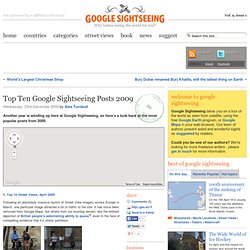 Top 10 Street Views, April 2009 Following an absolutely massive launch of Street View imagery across Europe in March, one particular image attracted a lot of traffic to the site. It has since been removed from Google Maps, but others from our roundup remain; like the brilliant depiction of British people's astonishing ability to queue, even in the face of compelling evidence that it's utterly pointless. 2. Naked Street View. How Google is failing the launch of Google Wave | Bit Rebels - F. It has been a while now since the Google team announced their heavily anticipated new addition to the ever growing Google empire.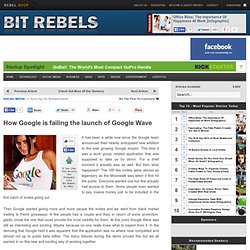 This time it was a work group related application that was supposed to take us by storm. For a brief moment it actually was as well. But then what happened? How To Create Shared Collaborative Google Maps - Flock. More than ever, the internet has enabled us to work in global and distributed teams.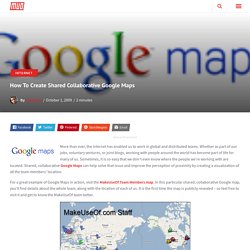 Whether as part of our jobs, voluntary ventures, or joint blogs, working with people around the world has become part of life for many of us. Sometimes, it is so easy that we don't even know where the people we're working with are located. Shared, collaborative Google Maps can help solve that issue and improve the perception of proximity by creating a visualization of all the team members' location.
Map Maker: Create Google maps the easy way. - Flock. Transit - Flock. Secret Places On Google Earth - a Funny video - Flock. Google Earth Unveils Technology to Prevent Deforestation - Flock. During the UN Climate Change Conference held in Copenhagen this week, Google unveiled an advanced Google Earth prototype that allows satellite imagery to show and measure the progression of deforestation in regions around the world.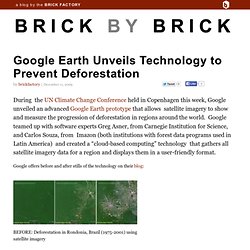 Google teamed up with software experts Greg Asner, from Carnegie Institution for Science, and Carlos Souza, from Imazon (both institutions with forest data programs used in Latin America) and created a "cloud-based computing" technology that gathers all satellite imagery data for a region and displays them in a user-friendly format. Google offers before and after stills of the technology on their blog: BEFORE: Deforestation in Rondonia, Brazil (1975-2001) using satellite imagery AFTER: Deforestation in Mato Grosso, Brazil (Augustin 2009-September 2009) using SAD technology created by Carolos Souza.
---