Browsers
Use Google Profiles for Greater Productivity and Organization. I have the way to make your online activities more productive, more organized, and even safer.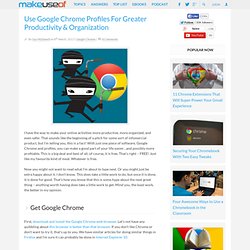 That sounds like the beginning of a pitch for some sort of infomercial product, but I'm telling you, this is a fact! With just one piece of software, Google Chrome and profiles, you can make a good part of your life easier…and possibly more profitable. 5 Creative Ways to Use Pinterest for Business | SiteProNews: Webmaster News & Resources - Flock. May 16, 2012 5 Creative Ways to Use Pinterest for Business By Juliet McEwen Johnson in Pay Per Click As the new #3 social network, Pinterest's growth is meteoric and previously unheard of.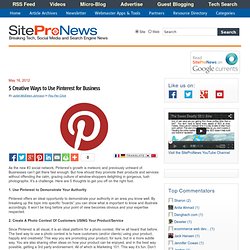 Businesses can't get there fast enough. How To Turn Any Bookmarklet Into A Customized Toolbar Button [Firefox] - Flock. Ever since Pinterest came around, I started re-discovering the power of bookmarklets.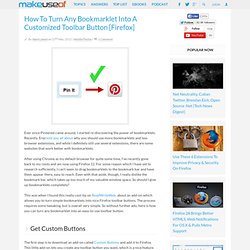 Recently, Erez told you all about why you should use more bookmarklets and less browser extensions, and while I definitely still use several extensions, there are some websites that work better with bookmarklets. After using Chrome as my default browser for quite some time, I've recently gone back to my roots and am now using Firefox 12.
For some reason which I have yet to research sufficiently, I can't seem to drag bookmarklets to the bookmark bar and have them appear there, easy to reach. Even with that aside, though, I really dislike the bookmark bar, which takes up too much of my valuable window space. 11 Must-Have Add-Ons for Firefox 4: Online Collaboration « - Flock. One of the best things about Firefox is the huge number of useful add-ons that can be downloaded for it, enabling users to customize the browser to their needs.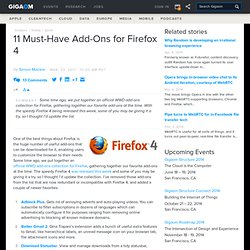 Some time ago, we put together an official WWD add-ons collection for Firefox, gathering together our favorite add-ons at the time. The speedy Firefox 4 was released this week and some of you may be giving it a try, so I thought I'd update the collection. I've removed those add-ons from the list that are now redundant or incompatible with Firefox 4, and added a couple of newer favorites: Adblock Plus. Gets rid of annoying adverts and auto-playing videos.
10 Must-Have FireFox Plugins For Web Designers | The Roxor | Des. ColorZilla allows you to get the color code from every pixel in your browser.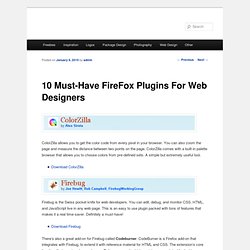 You can also zoom the page and measure the distance between two points on the page. ColorZilla comes with a built-in palette browser that allows you to choose colors from pre-defined sets. A simple but extremely useful tool. 10 Cool Internet Browsers You May Not Have Heard About. 10 Cool Internet Browsers You May Not Have Heard About Web browsers are the windows to the largest virtual world known to mankind: the Internet, and as long as the web plays a role in our everyday life, so do the various web browsers.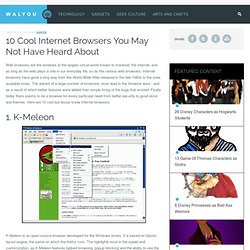 Internet browsers have gone a long way from the World Wide Web released in the late 1980s to the ones available today. The advent of a large number of browsers, even lead to the 'browser wars', and as a result of which better features were added than simple fixing of the bugs that existed. Finally today there seems to be a browser for every particular need-from better security to good skins and themes. 5 Cool About:Config Hacks To Make Firefox Browsing Smoother - Fl. Part of the reason behind Firefox's success is the fact that there is an awesome team of individuals behind it, who work around the clock to make it live up to the stringent quality standards, which are a hallmark of Mozilla.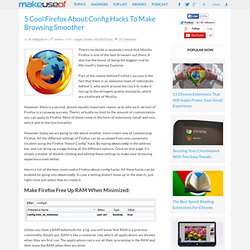 However, there is a second, almost equally important reason as to why each version of Firefox is a runaway success. There's virtually no limit to the amount of customization you can apply to Firefox. Most of these come in the form of extensions (small add-ons, which add to the functionality). However, today we are going to talk about another, more covert way of customizing Firefox. All the different settings of Firefox can be accessed from one convenient location using the Firefox "About Config" hack.
---