Wikipedia.org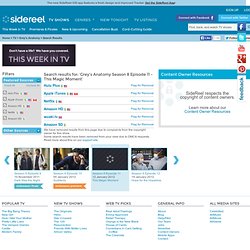 Grey's Anatomy Full Episodes - episode 11 season 8 | Search Results
Login to your account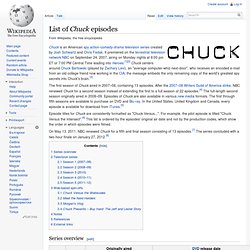 List of Chuck episodes
Chuck is an American spy action - comedy - drama television series created by Josh Schwartz and Chris Fedak . It premiered on the terrestrial television network NBC on September 24, 2007, airing on Monday nights at 8:00 pm ET or 7:00 PM Central Time leading into Heroes . [ 1 ] [ 2 ] Chuck centers around Chuck Bartowski (played by Zachary Levi ), an "average computer-whiz-next-door", who receives an encoded e-mail from an old college friend now working in the CIA ; the message embeds the only remaining copy of the world's greatest spy secrets into Chuck's brain. [ 3 ] The first season of Chuck aired in 2007–2008, containing 13 episodes.
House , also known as House, M.D. , is an American medical drama series which premiered on Fox on November 16, 2004. House was created by David Shore .
List of House episodes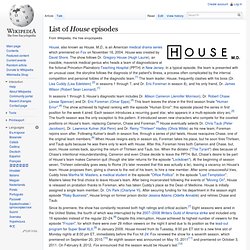 List of White Collar episodes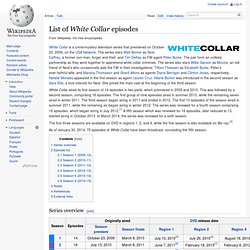 White Collar is a crime/mystery television series that premiered on October 23, 2009, on the USA Network .
List of Suits episodes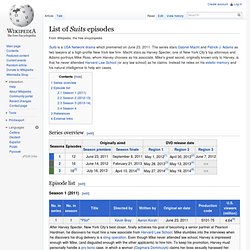 Suits is a USA Network drama which premiered on June 23, 2011.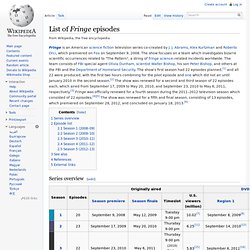 List of Fringe episodes
Fringe is an American science fiction television series co-created by J.
Grey's Anatomy is an American television medical drama that premiered on the American Broadcasting Company (ABC), as a mid-season replacement for Boston Legal on March 27, 2005. [ 1 ] The series has aired for nine seasons, and focuses on the fictional lives of surgical interns and residents , as they gradually evolve into seasoned doctors, while trying to maintain personal lives. The show's premise originated with Shonda Rhimes , who serves as an executive producer, along with Betsy Beers , Mark Gordon , Krista Vernoff , Rob Corn , Mark Wilding , and Allan Heinberg . [ 2 ] The series was created to be racially diverse, utilizing a color-blind casting technique. [ 3 ] It is primarily filmed in Los Angeles , California . [ 4 ]
List of Grey's Anatomy episodes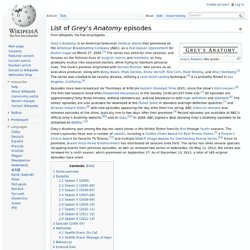 Castle is an American comedy-drama police procedural television series on ABC which was created by Andrew W.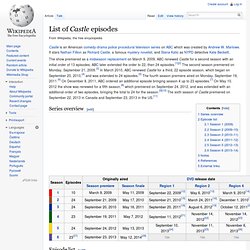 List of Castle episodes