Wikipedia.org
Grey's Anatomy Full Episodes - episode 11 season 8 | Search Results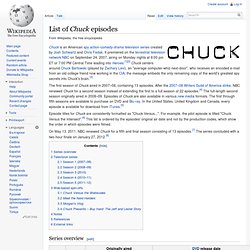 List of Chuck episodes
Chuck is an American spy action-comedy-drama television series created by Josh Schwartz and Chris Fedak. It premiered on the terrestrial television network NBC on September 24, 2007, airing on Monday nights at 8:00 pm ET or 7:00 PM Central Time leading into Heroes.[1][2] Chuck centers around Chuck Bartowski (played by Zachary Levi), an "average computer-whiz-next-door", who receives an encoded e-mail from an old college friend now working in the CIA; the message embeds the only remaining copy of the world's greatest spy secrets into Chuck's brain.[3] The first season of Chuck aired in 2007–08, containing 13 episodes.
The first seven seasons were released on DVD by Universal, encoded for regions 1, 2 and 4. As of June 16, 2009, the show has been aired in more than 60 countries, with 86 million viewers worldwide.[13] In the following list, the number in the first column refers to the episode's number within the entire series. The second column indicates the episode's number within that season. "US viewers in millions" refers to the number of Americans in millions who watched the episode live while it was broadcast or by a few hours later with a digital video recorder. A total of 177 episodes of House were broadcast over eight seasons, with the series finale airing on May 21, 2012. The show started on November 16, 2004,[14] and has received a high viewing rating from the first episode to the last one.
List of House episodes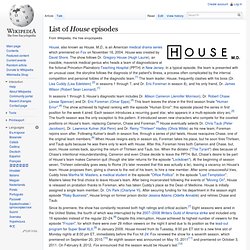 List of White Collar episodes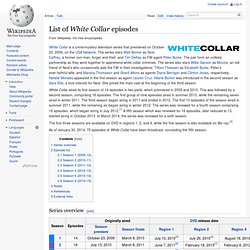 White Collar aired its first season of 14 episodes in two parts, which premiered in 2009 and 2010. This was followed by a second season, comprising 16 episodes. The first group of nine episodes aired in summer 2010, while the remaining seven aired in winter 2011. The third season began airing in 2011 and ended in 2012. The first 10 episodes of the season aired in summer 2011, while the remaining six began airing in winter 2012.
List of Suits episodes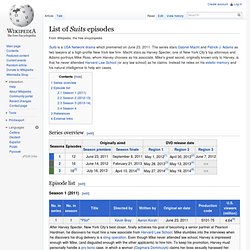 Series overview[edit] Episode list[edit] Season 1 (2011)[edit] Season 2 (2012-13)[edit] On August 11, 2011, it was announced that Suits was renewed for a second season of 16 episodes.[21]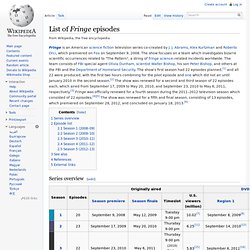 List of Fringe episodes
Fringe is an American science fiction television series co-created by J. J. Abrams, Alex Kurtzman and Roberto Orci, which premiered on Fox on September 9, 2008. The show focuses on a team which investigates bizarre scientific occurrences related to "The Pattern", a string of fringe science–related incidents worldwide. The team consists of FBI special agent Olivia Dunham, scientist Walter Bishop, his son Peter Bishop, and others at the FBI and the Department of Homeland Security.
Grey's Anatomy is an American television medical drama that premiered on the American Broadcasting Company (ABC), as a mid-season replacement for Boston Legal on March 27, 2005. [ 1 ] The series has aired for nine seasons, and focuses on the fictional lives of surgical interns and residents , as they gradually evolve into seasoned doctors, while trying to maintain personal lives. The show's premise originated with Shonda Rhimes , who serves as an executive producer, along with Betsy Beers , Mark Gordon , Krista Vernoff , Rob Corn , Mark Wilding , and Allan Heinberg . [ 2 ] The series was created to be racially diverse, utilizing a color-blind casting technique. [ 3 ] It is primarily filmed in Los Angeles , California . [ 4 ]
List of Grey's Anatomy episodes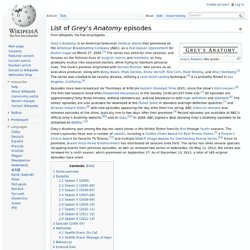 The show premiered as a midseason replacement on March 9, 2009. ABC renewed Castle for a second season with an initial order of 13 episodes; ABC later extended the order to 22, then 24 episodes.[1][2] The second season premiered on Monday, September 21, 2009.[3] In March 2010, ABC renewed Castle for a third, 22 episode season, which began on September 20, 2010,[4] and was extended to 24 episodes.[5] The fourth season premiere aired on Monday, September 19, 2011.[6] On December 8, 2011, ABC ordered an additional episode bringing season 4 up to 23 episodes.[7] On May 10, 2012 the show was renewed for a fifth season,[8] which premiered on September 24, 2012, and was extended with an additional order of two episodes, bringing the total to 24 for the season.[9][10] The sixth season of Castle premiered on September 22, 2013 in Canada and September 23, 2013 in the US.[11] Series overview[edit] Episode list[edit]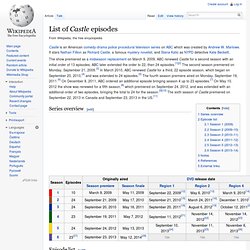 List of Castle episodes