Tweaking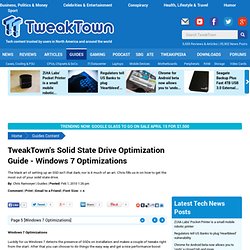 Windows 7 Optimizations Luckily for us Windows 7 detects the presence of SSDs on installation and makes a couple of tweaks right from the start. After that you can choose to do things the easy way and get a nice performance boost while being safe, or you can go balls to the wall and get "overclocker" level performance.
s Solid State Drive Optimization Guide Windows 7 Optimizations :
Intel SSD Download center
Windows 7 - Ultimate SSD Speed Tweaks
Increase System Speed Disable indexing Description: Indexing creates and maintains a database of file attributes. This can lead to multiple small writes when creating/deleting/modifying files. Searching for files will still work.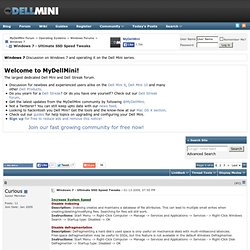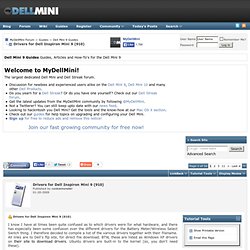 This is from Dell's website, but I modified it so that it applies specifically to the Mini 9: The following list is a general guideline of the correct order to install drivers on Dell portables. After reinstalling Microsoft® Windows®, follow the order listed when reinstalling drivers. It is recommended that you print this list for reference when installing drivers. Note: Some devices may not function properly if the drivers are installed out of order. 1.
Drivers for Dell Inspiron Mini 9 (910)
It has been asked what other little things can be done to squeeze a litle more performance from Windows 7 on our SSD drives... One thing that helps maintain performance on an SSD is the percentage of free space available to the SSD controller to execute 'wear leveling'. Basically, spreading out the load to the least used empty memory cells. In order to do this, we need to fool Windows and other programs into looking elsewhere for stuff that is necessary, but rarely used and taking up a lot of disk space.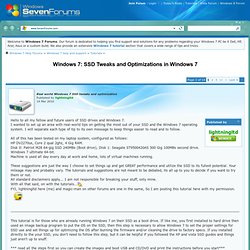 SSD Tweaks and Optimizations in Windows 7