Professional Bodies
Welcome to Disney.com.sg : the official home page for all things Disney! ITIL® Home. ITIL is the most widely accepted approach to IT service management in the world.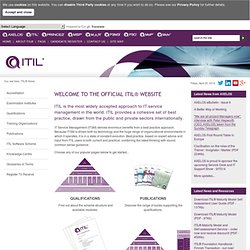 ITIL provides a cohesive set of best practice, drawn from the public and private sectors internationally. IT Service Management (ITSM) derives enormous benefits from a best practice approach. Because ITSM is driven both by technology and the huge range of organizational environments in which it operates, it is in a state of constant evolution. Pink Elephant is the world's leading organization for ITIL and IT Service Management consulting, education and conferences. ItSMF International - IT Service Management, ITIL and compliment.
ItSMF Singapore. PMI Home. Earn a certification that employers demand PMI credentials distinguish you in the job market and can help you move ahead.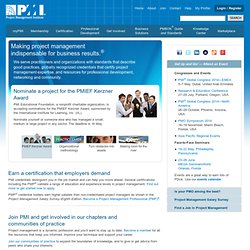 Several certifications including the PMP® validate a range of education and experience levels in project management. Find out more or get started now to apply. PMP® credential holders earn higher salaries than non-credentialed project managers as shown in the Project Management Salary Survey–Eighth Edition.
---