Sphinx
Basic Searching Field Conditions Attribute Filters Application-Wide Search Pagination Match Modes
Searching § Thinking Sphinx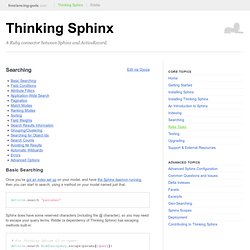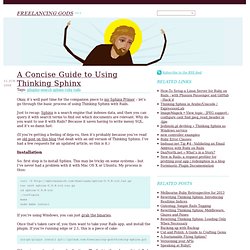 Okay, it's well past time for the companion piece to my Sphinx Primer – let's go through the basic process of using Thinking Sphinx with Rails. Just to recap: Sphinx is a search engine that indexes data, and then you can query it with search terms to find out which documents are relevant. Why do you want to use it with Rails?
A Concise Guide to Using Thinking Sphinx : Freelancing Gods
Deploying a Rails app with Thinking Sphinx
For the past few years I've been working with Stephen P.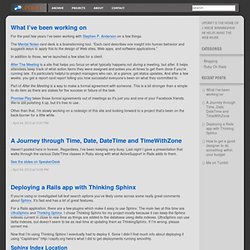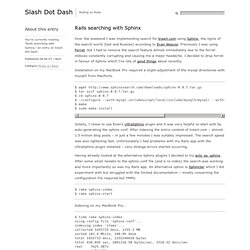 Slash Dot Dash » Blog Archive » Rails searching with Sphinx
Over the weekend I was implementing search for trawlr.com using Sphinx , the nginx of the search world (fast and Russian) according to Evan Weaver . Previously I was using Ferret , but I had to remove the search feature almost immediately due to the ferret indexes constantly corrupting and causing me a major headache.
Almost all Web-applications needs data search logic and really often this logic should have full-text search capabilities. If you are using MySQL database, you can use its FULLTEXT search, but it's not efficient when you have a large amout of data. In this case third party search engines used, and one of them (and I think, the most efficient) is Sphinx .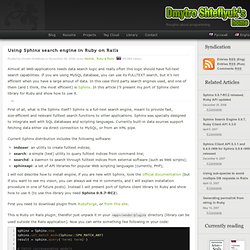 Using Sphinx search engine in Ruby on Rails | Dmytro Shteflyuk&#