Science
You and Your Research
Transcription of the Bell Communications Research Colloquium Seminar 7 March 1986 J. F.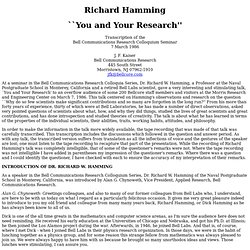 AGU. American Geophysical Union. Earth - Oceans - Atmosphere - S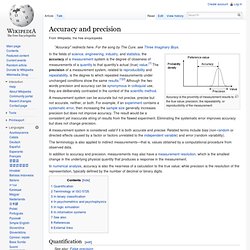 Accuracy indicates proximity of measurement results to the true value, precision to the repeatability, or reproducibility of the measurement In the fields of science , engineering , industry , and statistics , the accuracy [ 1 ] of a measurement system is the degree of closeness of measurements of a quantity to that quantity's actual (true) value . The precision [ 1 ] of a measurement system, also called reproducibility or repeatability , is the degree to which repeated measurements under unchanged conditions show the same results . [ 2 ] Although the two words reproducibility and repeatability can be synonymous in colloquial use, they are deliberately contrasted in the context of the scientific method . A measurement system can be accurate but not precise, precise but not accurate, neither, or both. For example, if an experiment contains a systematic error , then increasing the sample size generally increases precision but does not improve accuracy.
Accuracy and precision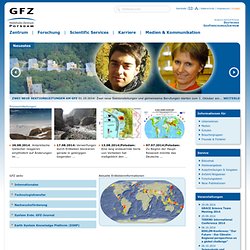 GFZ
The GFZ is the national research centre for Earth Sciences in Germany. We investigate "System Earth" at locations all over the world with all the geological, physical, chemical and biological processes which occur at its surface and in its interior. The goal of our interdisciplinary research is to understand these processes on all scales of time and space, whether they occur at the level of atoms and molecules or galaxies, and independently of whether they take place faster than the blink of an eye in nanoseconds or if they happen infinitely slowly over billions of years.
Centre Tecnològic de Telecomunicacions de Catalunya
EIT ICT LABS
Scopus is the world's largest abstract and citation database of peer-reviewed literature with smart tools that track, analyze and visualize research.
Welcome to the Scopus Support Site
Research Trends