Navigation
-Sponsored by Averna- In the field, capture up to 200 MHz of multi-channel bandwidth and return to your lab with a rich library of GPS and GLONASS signals and impairments to accelerate RF product designs and research. Add a camera for a complete view and map of your recording environment.
GPS World magazine covering GNSS news for industry professionals
Inside GNSS | Engineering Solutions from the Global Navigation S
January 23, 2014 Speaking at his annual press conference in Paris last Friday (January 17, 2014), European Space Agency (ESA) Director General Jean-Jacques Dordain was cool, collected and, importantly, positive, as he laid out plans and parried questions on a whole range of ESA issues. From the Rosetta mission to manned space flights, Swarm, Gaia, Sentinel and Copernicus, and of course Galileo, he set the stage for an ambitious 2014. » Complete Story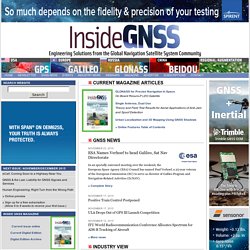 The Institute of Navigation
EUREF Permanent GNSS Network
Index of /papers.pdf
Research Group of Astronomy and Geomatics (gAGE/UPC)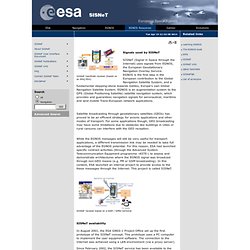 Signals used by SISNeT SISNeT (Signal in Space through the Internet) uses signals from EGNOS, the European Geostationary Navigation Overlay Service. EGNOS is the first step in the European contribution to the Global Navigation Satellite System, and a fundamental stepping-stone towards Galileo, Europe's own Global Navigation Satellite System.
About SISNeT
IGS -- International GNSS Service, formerly the International GP
The International GNSS Service (IGS) is a voluntary federation of more than 200 worldwide agencies that pool resources and permanent GPS & GLONASS station data to generate precise GPS & GLONASS products. The IGS is committed to providing the highest quality data and products as the standard for Global Navigation Satellite Systems (GNSS) in support of Earth science research, multidisciplinary applications, and education. Currently the IGS includes two GNSS, GPS and the Russian GLONASS, and intends to incorporate future GNSS. You can think of the IGS as the highest-precision international civilian GPS community.