Css
More and more applications these days are migrating to the Web. Without platform constraints or installation requirements, the software-as-a-service model looks very attractive. Web application interface design is, at its core, Web design; however, its focus is mainly on function. To compete with desktop applications, Web apps must offer simple, intuitive and responsive user interfaces that let their users get things done with less effort and time. In the past we didn't cover web applications the way we should and now it's time to take a closer look at some useful techniques and design solutions that make web-applications more user-friendly and more beautiful. This article presents the first part of our extensive research on design patterns and useful design solutions in modern web applications.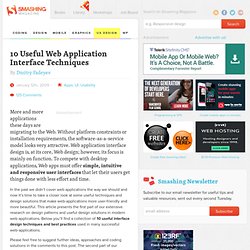 Simple Spreadsheet
* This post is regularly updated. *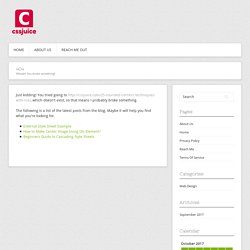 The ThrashBox™
Horizontal Menu Bar
The page you requested was not found. Please use the navigation tabs at the top, or try searching. It looks like you arrived here by following a link on a netbeans.org page - please notify the NetBeans webmasters so they can fix this. If you were looking for an article about an older release of NetBeans, it may have been archived - check the list of archived documentation .
Putting Flickr on Rails - NetBeans IDE 6.0 Tutorial