Augmentedreality
If You're Not Seeing Data, You're Not Seeing | Gadget Lab | Wire. As you shove your way through the crowd in a baseball stadium, the lenses of your digital glasses display the names, hometowns and favorite hobbies of the strangers surrounding you.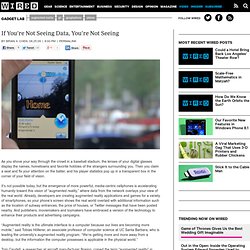 Then you claim a seat and fix your attention on the batter, and his player statistics pop up in a transparent box in the corner of your field of vision. It's not possible today, but the emergence of more powerful, media-centric cellphones is accelerating humanity toward this vision of "augmented reality," where data from the network overlays your view of the real world. Already, developers are creating augmented reality applications and games for a variety of smartphones, so your phone's screen shows the real world overlaid with additional information such as the location of subway entrances, the price of houses, or Twitter messages that have been posted nearby. iPhone ARKit. Perey Research & Consulting. Lalalab.org||||||clara boj + diego diaz.
Augmented Reality, Mixed, software, product, systems, solutions, 16 Top Augmented Reality Business Models. As promised a more specific 'commercial' follow up to my previous post on this topic which was more 'story' centric.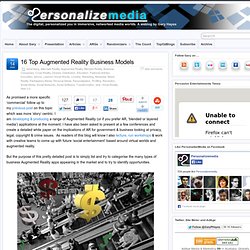 I am developing & producing a range of Augmented Reality (or if you prefer AR, 'blended or layered media') applications at the moment. I have also been asked to present at a few conferences and create a detailed white paper on the implications of AR for government & business looking at privacy, legal, copyright & crime issues. Layar.
Ogmento. ARToolKit Home Page. ARToolKit is a software library for building Augmented Reality (AR) applications.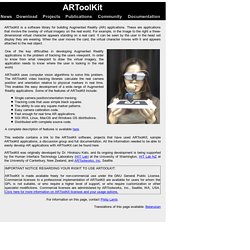 These are applications that involve the overlay of virtual imagery on the real world. For example, in the image to the right a three-dimensional virtual character appears standing on a real card. It can be seen by the user in the head set display they are wearing. Total Immersion : Augmented reality software solutions with D&#0.
---