Books
ISBN stuff. BookHunter application - the one I use! AmaterasERD - Project Amateras. AmaterasERD AmaterasUML is an Eclipse plug-in to draw ER diagram.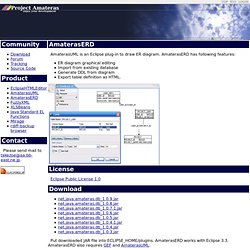 AmaterasERD has following features: ER diagram graphical editingImport from existing databaseGenerate DDL from diagramExport table definition as HTML. License. Free Books : Download & Streaming : Ebook and Texts Archive : Internet Archive. Free Audio Books - Download an audio book in mp3 or iPod format today! Welcome to TheBookGuide. AbeBooks Official Site - New & Secondhand Books, New &Used Textbooks, Rare & Out of Print Books. How To Identify Book Club Editions (Page 1 of 2)
Estimates differ, but many hundreds of book clubs have come and gone over the past 70 or 80 years, with a total number perhaps approaching a thousand.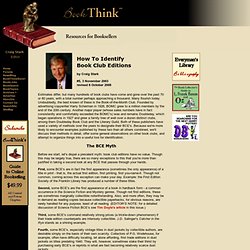 Many flourish today. Undoubtedly, the best known of these is the Book-of-the-Month Club.
---