InfoSec
US Army Computer Crimes Detectives Deliver Digital Justice. January 08, 2013 By: Colby Hauser No other environment within the modern era has evolved as rapidly and as exponentially as the Internet.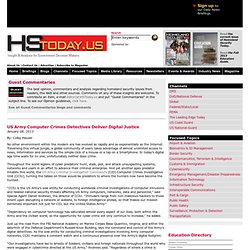 Traversing this virtual jungle, a global community of users takes advantage of almost unlimited access to news, information and services by the simple click of a mouse or a tap on a Smartphone. In today's digital age time waits for no one, unfortunately neither does crime. Force-download. IBM Advances Security Intelligence to Help Organizations Combat Increasing Threats. ARMONK, N.Y., Feb. 22, 2012 /PRNewswire/ -- IBM (NYSE: IBM) today unveiled new capabilities planned for its security intelligence platform designed to combine deep analytics with real-time data feeds from hundreds of different sources to give organizations, for the first time, the ability to help proactively protect themselves from increasingly sophisticated and complex security threats and attacks using a single platform.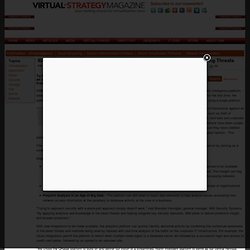 Organizations today are struggling to defend themselves against an onslaught of ever-evolving data breaches, such as theft of customer and employee information, credit card data and corporate intellectual property. To date, many corporations have been unable to create a security defense system because they have cobbled together technologies that don't integrate in an intelligent and automated fashion. This patchwork approach has created loopholes that hackers can exploit. 2012 Cyber Security Predictions from the Websense Security Labs. Posted: 17 Nov 2011 09:33 AM | Patrik Runald | With all of the crazy 2011 security breaches, exploits and notorious hacks, what can we expect for 2012?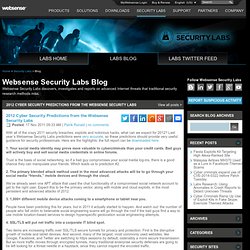 Last year's Websense Security Labs predictions were very accurate, so these predictions should provide very useful guidance for security professionals. Here are the highlights; the full report can be downloaded here. 1. Your social media identity may prove more valuable to cybercriminals than your credit cards. My speech to the IAAC | Ben Hammersley's Dangerous Precedent.
Physical Attacks and Losses. Russian Hackers Make Millions Breaching ATMs. Reputation Attacks. Privacy & Data Breaches. Privacy Theater: Why Social Networks Only Pretend To Protect You. Editor's note: The following guest post was written by Rohit Khare, the co-founder of Angstro.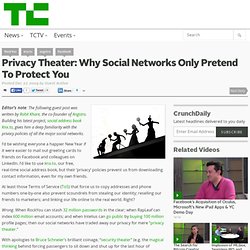 Building his latest project, social address book Knx.to, gives him a deep familiarity with the privacy policies of all the major social networks. I'd be wishing everyone a happier New Year if it were easier to mail out greeting cards to friends on Facebook and colleagues on LinkedIn. C5_APT_SKHack.
DoS + Downtime. Cycle-Saver. How-to on securing PDF documents | InfoSecPodcast.com.
---