Hack your life
post written by: Marc Email "Absorb what is useful, reject what is useless, add what is specifically your own." – Bruce Lee Being highly productive is not an innate talent; it's simply a matter of organizing your life so that you can efficiently get the right things done.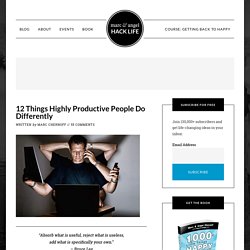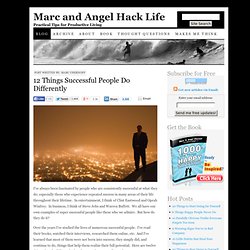 Email I've always been fascinated by people who are consistently successful at what they do; especially those who experience repeated success in many areas of their life throughout their lifetime. In entertainment, I think of Clint Eastwood and Oprah Winfrey.
post written by: Marc Email Sometimes I seem to struggle with the concept of productivity.
A Misconception of Productivity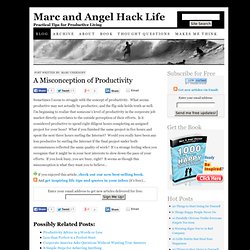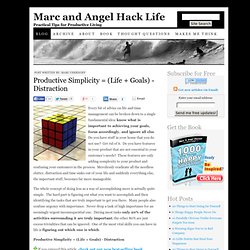 post written by: Marc Email Every bit of advice on life and time management can be broken down to a single fundamental idea: know what is important to achieving your goals, focus accordingly, and ignore all else .
Productive Simplicity = (Life + Goals) - Distraction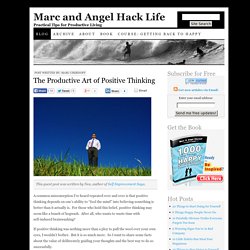 The Productive Art of Positive Thinking
Email This guest post was written by Nea, author of Self Improvement Saga . A common misconception I've heard repeated over and over is that positive thinking depends on one's ability to "fool the mind" into believing something is better than it actually is.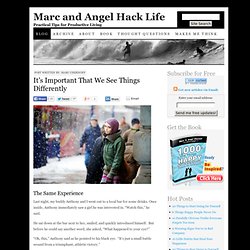 Email The Same Experience Last night, my buddy Anthony and I went out to a local bar for some drinks.
It's Important That We See Things Differently
30 Articles that Will Help You Simplify Your Life
post written by: Marc Email The concept of 'the simple life' means different things to different people. In my mind, simple living equates to capitalizing on the fundamentals that truly make you happy and purging the needless remainders. It's the notion of creating tranquility in your life by eliminating various roadblocks of clutter so you can concentrate your time and attention on the people and effects that matter most. Alas, the actual process of 'simplifying' is not easy.