Marketing alternatif
Faites passer l'info. Paperplane - Street, ambient, guérilla marketing and out of home. IPUB.CA.CX | DE LA PUB RIEN QUE DE LA PUB ! Je Dblogk. Joe La Pompe advertising, publicité. PPC. Et si l'on parlait Marketing.
Elles ont réussi dans le digital, c'est le titre du livre de Marine Deffrennes qui vient de paraitre (le 7 Mars, le jour de la Journée de la Femme...) aux Editions Kawa dans la collection Tout savoir sur...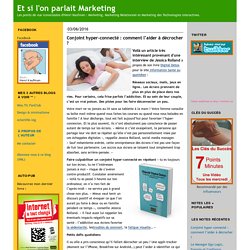 Marine a rassemblé plus de 30 témoignages de femmes qui ont ...réussi dans le digital. Elles expliquent pourquoi et comment et donnent tous leurs "trucs". Vanksen : Agence de publicité, digital, buzz & social media. ConseilsMarketing.fr. Le blog du Marketing Alternatif.
---