Furniture
100 Creative Furniture. InShare19 In this roundup you will find some stunning, creative and unique furniture design ideas.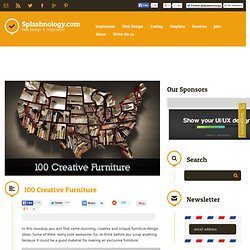 Some of them really look awesome. So, re-think before you scrap anything because it could be a good material for making an exclusive furniture. Advertisement 100 Creative Furniture: Reloaded. All-in-One Modular Fold Out Living Room Furniture Set. This incredible all-in-one furniture set from Matroshka is still looking for funding – so if you want to have one you might need to become an investor.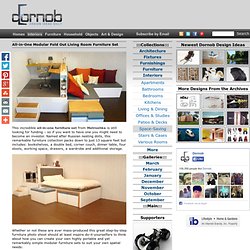 Named after Russian nesting dolls, this remarkable furniture collection packs down to just 13 square feet but includes: bookshelves, a double bed, corner couch, dinner table, four stools, working space, drawers, a wardrobe and additional storage. Whether or not these are ever mass-produced this great step-by-step furniture photo shoot should at least inspire do-it-yourselfers to think about how you can create your own highly portable and yet remarkably simple modular furniture sets to suit your own spatial needs: 21 ways of turning pallets into unique pieces of furniture. Wood pallets have been around for decades as mechanisms for shipping and storing larger items (among other things).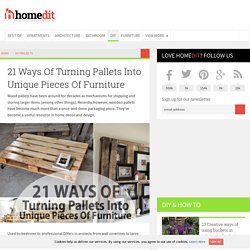 Recently, however, wooden pallets have become much more than a once-and-done packaging piece. They've become a useful resource in home décor and design. Used by beginner to professional DIYers in projects from wall coverings to large and small furniture pieces to home décor accessories, wood pallets can be disassembled into wood planks that can be used for any number of projects. The wood can be like new, rustic with patina, or somewhere in between. And, best of all (to the DIY world, at least), is their price: Free! Furniture. Hug Chair by Ilian Milinov. A Chair for Clingy Lovers If you've ever had someone sit in your lap, you know that 15 minutes is about the max your legs can handle.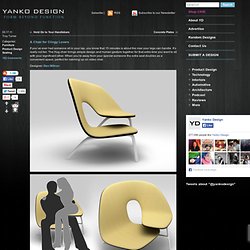 It's really not fair. The Hug chair brings simple design and human gesture together for that extra time you want to sit with your significant other. When you're away from your special someone the extra seat doubles as a convenient space, perfect for catching up on video chat. Designer: Ilian Milinov.
DIY
Shelving. Carpet/Rug.
---